Innovations in IoT: Perspectives from CONNECTIONS Speakers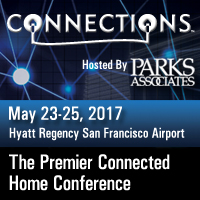 The 21st-annual CONNECTIONS™ Conference took place May 23-25, 2017, at the Hyatt Regency San Francisco Airport Hotel. Over 500 executives from smart home, entertainment, health, insurance, and energy markets were in attendance for three days of networking, learning, and Parks Associates' latest consumer research.
In the 20+ years that Parks Associates has hosted CONNECTIONS™, the connected home has evolved from a high-end concept toward a mass-market opportunity with incredible revenue potential. Today several high-profile market disruptions are emerging as a result of broadband adoption, smartphone usage, and consumer expectations for connectivity solutions that provide a personalized experience.
Prior to the event, speakers provided perspectives on several trends impacting the connected consumer markets:

CONNECTIONS™ is the only connected home event to focus on the use cases and emerging business models that will successfully engage consumers and grow revenues in the converging IoT industries, including smart home, connected entertainment, and mobile ecosystems. For more information on how you can get involved in future events, visit www.connectionsus.com.
Further Reading:
Next: Moving the Smart Home Market Forward
Previous: Reflexion Health: Connected products need frictionless implementation

Comments
Be the first to leave a comment.
Post a Comment