Independent Living Solutions and COVID-19 - Insights from Care Planning Institute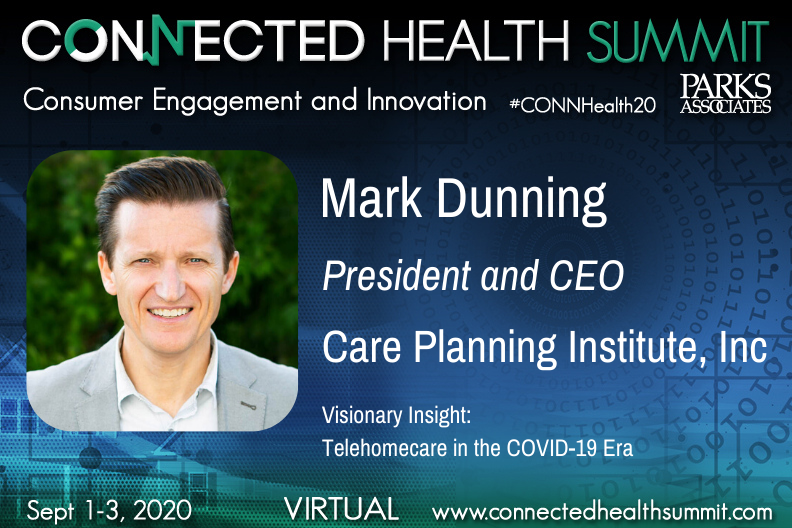 Mark Dunning, Director of the Pension Benefits Group for the Care Planning Institute, will keynote at Parks Associates' Connected Health Summit this September. The Connected Health Summit is three-day executive conference focused on the impact of connected devices and IoT healthcare solutions on consumers at home.
Ahead of the event, Mark shared his thoughts with us on the effect of COVID-19 on the connected health market and what healthcare and independent living solutions will look like in the future.
How has COVID-19 impacted the connected health markets?
Families have come in greater numbers to us to understand care options that don't include facility settings – due to CoVID spreading in certain facilities.
How have consumer attitudes towards connected health solutions shifted in the last year?
We are seeing more families ask us about caring for their aging parent in their own home.
Will shifts in consumer behaviors related to fitness, wellness, chronic care management, and care for senior populations outlast the COVID-19 crisis? How can solution providers keep consumers engaged over the long-term?
Staying independent at home has always been the #1 choice for seniors who can find the funds to pay for such a solution. CoVID seems to have reinforced the desire of seniors to stay well at home instead of going to a facility. The tricky part will be finding ways to fund their care needs at home. Government programs that pay for long term care will be more vital and using technology to boost the level of care provided - without massively increasing the cost of their care – will become increasingly valuable to the total care solution at home.
COVID-19 exposed the vulnerability of our senior population. How can independent living solutions best meet the needs of seniors and caregivers?
Helping seniors stay independent at home via cost effective solutions that provide the needed level of care but are affordable to the majority of seniors across the nation.
The healthcare economy has been severely disrupted in this crisis, but regulations and reimbursement for connected health solutions are trending positive - how will these competing forces impact the growth of the connected health market?
As government agencies see that technology can play an important role in helping meet the care needs of seniors to stay independent in their homes, they will hopefully see that an ounce of prevention is worth a pound of cure, and desire to put more dollars behind products and services that reduce the overall cost of care for the average senior.
Next: Connected Health Markets and COVID-19 - Tytocare Insights
Previous: Connected Health Solutions and COVID-19 - UnitedHealthcare

Comments
Be the first to leave a comment.
Post a Comment