Households with children are more likely to use specific online health services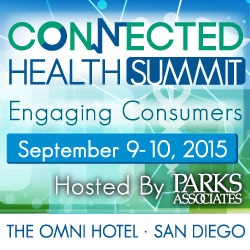 New digital health research from Parks Associates finds 50% of all U.S. broadband households use at least one healthcare portal per month, but only approximately one-fourth of these users conduct more than one activity per month. The firm finds households with children are much more likely than those without to use specific online health services regularly, including twice as likely to access personal health data, schedule medical appointments, and view test or lab results on a health portal.
13% of U.S. broadband households with children at home use a real-time video consultation with an online doctor or nurse at least monthly
20% of U.S. smartphone owners currently use at least one health-based app on a monthly basis
Over two-thirds of U.S. broadband households use a health app or portal on a monthly basis, including over 80% of those with a head of household ages 18-24

Parks Associates welcomes and thanks Reception Sponsor Validic for its support at the 2015 Connected Health Summit. Validic will be hosting the event's networking reception on September 9 at 5:30pm.

Validic is the healthcare industry's leading cloud-based, digital health platform for convenient and quick access to patient data from in-home clinical devices, wearables and patient healthcare applications. By connecting its growing base of customers - that includes providers, pharmaceutical companies, payers, wellness companies and health IT vendors - to the continuously expanding list of digital health technologies, Validic enables healthcare companies to better coordinate care across their communities, improve their patient engagement strategies and more efficiently manage their patient populations.
Drew Schiller, CTO and Co-Founder of Validic, will be one of two speakers participating on the summit's Fireside Chat, September 10 at 2:45pm. He will be joined by Dean Sawyer, Co-Founder and CEO of Sentrian.
To learn more about how you can attend this healthcare industry networking event, visit www.connectedhealthsummit.com.
Next: Over 40% of U.S. broadband households are interested in receiving medical alerts via a smartphone
Previous: Is Connected Health the Future of Healthcare?

Comments
Be the first to leave a comment.
Post a Comment