Households with Children Are Powerful Tech-Buying Segment
Some of our latest consumer research, Households with Children: Dominant Tech Purchasers, reveals households with children, particularly those ages 6-11, are the leading demographic groups for technology product and entertainment service purchasing.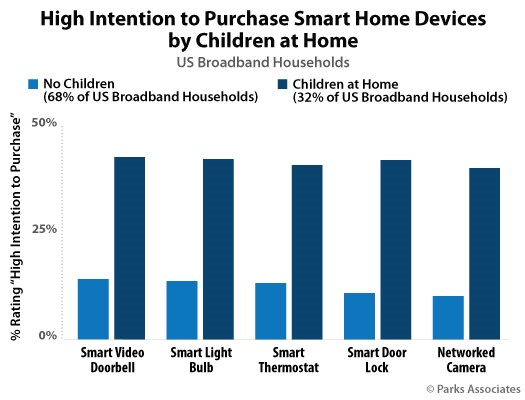 About 30% of broadband households have children at home, which translates to 32 million households. In general, households with children are young enough to be receptive to smart home technology but old enough to have the income and educational levels associated with smart home adoption. They self-identify as 'Innovators' (i.e., they like to purchase a new product early in its lifecycle) at more than twice the rate of broadband households. Combining this strong technology affinity with the need to buy products for their children creates a powerful tech-buying segment.
38% of US broadband households with children plan to buy a smart video doorbell over the next 12 months, compared to 14% of households without children.
Ninety percent of households with children at home subscribe to at least one OTT service.

Key factors that could inhibit future adoption are the COVID-19 outbreak and resulting financial impacts. One-half of US broadband households with children at home worry about their financial stability, and 61% are more cost-conscious because of the COVID-19 outbreak.
It is important for the device makers and service providers to emphasize the essential value in their solution, such as safety and security, although entertainment is also critically important for households with children. New content offerings for OTT services that highlight children's content or educational content will help keep this group engaged, especially as we continue to see some states encouraging or mandating consumers to stay at home.
Join the CONNECTIONS Community where you can network with key industry leaders in the connected home and IoT industries. The virtual conference sessions focus on technology innovations, consumer research on adoption and trends, product and service forecasts, and evaluation of new business strategies, partnerships, monetization opportunities, and value-added service design.
Next: The Shift to Online Video Consumption - You.i TV
Previous: 360 Deep Dive: Today's Broadcast TV

Comments
Be the first to leave a comment.
Post a Comment