Heavy Home Network Users Find 5G Fixed-Wireless Service Appealing
by Brad Russell | Sep. 4, 2020
Parks Associates research finds that COVID-19 accelerated an increase in the usage and value of home networks. With increasing strain on home networks, consumers show interest in emerging 5G fixed wireless broadband internet products and services (i.e., an alternative to a wired home internet service) in order to improve overall performance throughout the home.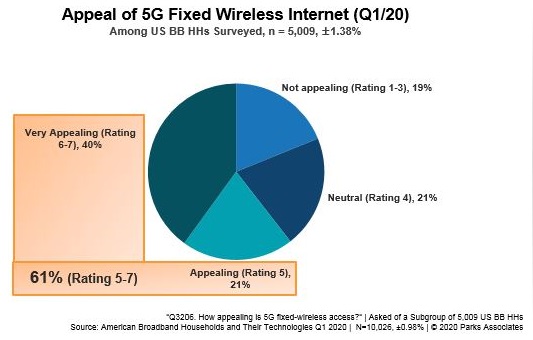 The boost in demand on home networks is driven by more time spent at home, an increase in the number of connected devices, remote work, remote schooling, and video streaming activities. This increased strain can result in inferior reliability, security, and optimization, resulting in frustration for consumers. Parks Associates research finds service interruptions increased from 19% in Q2 2019 to 29% in Q2 2020 and reports of slow speed increased from 24% to 29% during the same period.
Almost two-thirds of consumers find the concept of 5G fixed wireless service appealing. This interest is particularly apparent in heavy bandwidth users, who benefit the most from high speed, low latency, and long range. Parks Associates research shows that above-average streamers (i.e., consumers whose online streaming video consumption is above 20.1 hours per week) and heavy gamers (i.e., gamers who use 3 or more different gaming platforms) have about 12-13% more interest than average US broadband households, while interest is slightly more for remote workers and work-at-home households, which have seen an uptick since COVID-19. In addition to offering a fixed 5G service, mobile internet service providers may increase their appeal among work-at-home households by addressing other consumer concerns about remote work, like data security and privacy threats.
For a deeper look at the Home Network space, please check out Parks Associates' Quantified Consumer report Consumer Demand for Home Networking.
Next: COVID-19 and Consumer Data Security - Insights from Bitdefender
Previous: Samsung Takes on Home Energy Management

Comments
Be the first to leave a comment.
Post a Comment