Healthcare is not Pandemic-Proof - How Will it Adjust in the Future?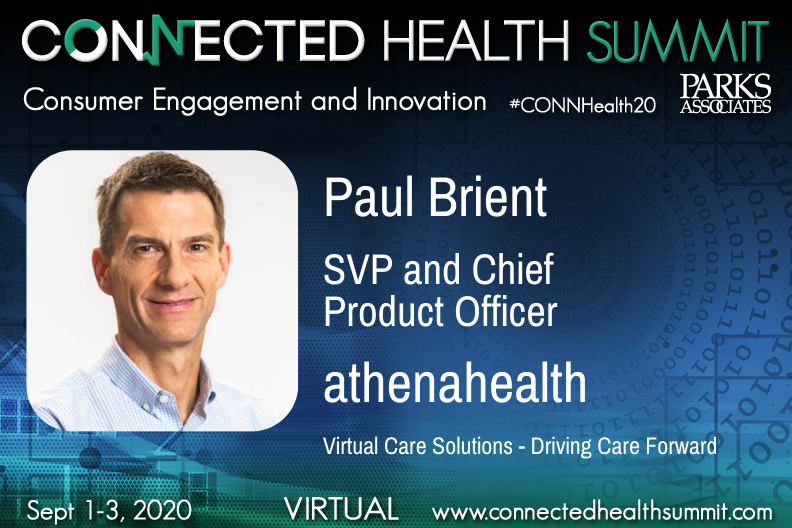 Ahead of the upcoming Connected Health Summit, Parks Associates asked one of our speakers, Paul Brient, SVP and Chief Product Officer of athenahealth, to share his insights with us on how COVID-19 has impacted the healthcare economy and what the future of healthcare looks like.
Parks Associates' Connected Health Summit will be hosted virtually on September 1-3 and will discuss the impact of connected devices and IoT healthcare solutions on consumers at home. Register now.
Q: The healthcare economy has been severely disrupted in this crisis, but regulations and reimbursement for connected health solutions are trending positive - how will these competing forces impact the growth of the connected health market?
A: It is often said that healthcare is the ultimate recession-proof industry. However, we have just proven that it is not pandemic proof. The pandemic has challenged the healthcare industry in unprecedented ways. Although challenging times can bring about despair, havoc and confusion, they can also accelerate needed change and bring about innovation that can have long-lasting and positive effects.
As lockdowns ensued, many patients around the U.S. were not able to leave their homes, and clinicians were not able to see patients and provide care in a traditional manner. Because of this, connected health solutions, such as telehealth, quickly became an essential resource. Countless physicians and their patients who had never experienced a telehealth visit did so for the first time – often initially using kludged-together solutions. During the months of March and April, the percentage of visits on the athenahealth network conducted via telehealth went from less than 1% to over 30% Interestingly, as states have reopened and we have somewhat adapted to the presence of COVID-19, we've seen the percentage of telehealth visits decline to about 11% of all visits. This is still more than 10x the percentage before the pandemic.
Based on the immediate need for telehealth tools, the U.S. Department of Health and Human Services Office for Civil Rights ("HHS OCR") exercised its enforcement discretion to give providers greater flexibility in their use of telehealth services during the COVID-19 nationwide public health emergency. Additionally, to make telehealth even more accessible and widely adopted, many insurance providers began reimbursing telehealth visits at the same rate as
in-person visits.
Historically, athenahealth has relied exclusively on our robust set of Marketplace partners to provide telehealth solutions to our clients. Due to the heightened demand for – and significantly increased adoption of – connected health platforms, we elected to introduce our own offering with a tightly integrated telehealth solution. In the first two weeks of the lockdown, athenahealth incorporated Apple FaceTime into its mobile application. Two months later, we introduced athenaTelehealth, a permanent, fully integrated solution that is completely capable of supporting HIPAA requirements.
With new regulations and reimbursements, connected health solutions have provided a critical capability during the COVID-19 pandemic, as they allow patients – including the most vulnerable and high-risk populations – to remain safely isolated. Many have also found that the virtual care can be more convenient and patient-friendly for a variety of healthcare services.
As we look to the post-COVID-19 future, connected health solutions will establish themselves as a bigger and more important element of care delivery than before the crisis. Across the nation, there are so many providers and patients that have experienced telehealth that we expect we will, without a doubt, see continued innovation and new models for care delivery. Some of this is, of course, predicated on regulations and reimbursement continuing to trend positively, which athenahealth supports because we see telehealth as a critical part of a thriving healthcare ecosystem. If they do, we expect that we will look back at the COVID-19 pandemic as a catalyst that ultimately increased the accessibility, quality, and sustainability of healthcare.
Next: Adapting to a Global Health Crisis
Previous: Connected Health Markets and COVID-19 - Tytocare Insights

Comments
Be the first to leave a comment.
Post a Comment