HBO Max, Is This a Good Time to Launch?
by David Drury | May. 28, 2020
The COVID-19 crisis is having a significant impact on video consumption with a large percentage of new subscribers adding video services. OTT services with significant gains in subscribers include Apple TV+ and Disney+, which is unsurprising given their recent launches into the market.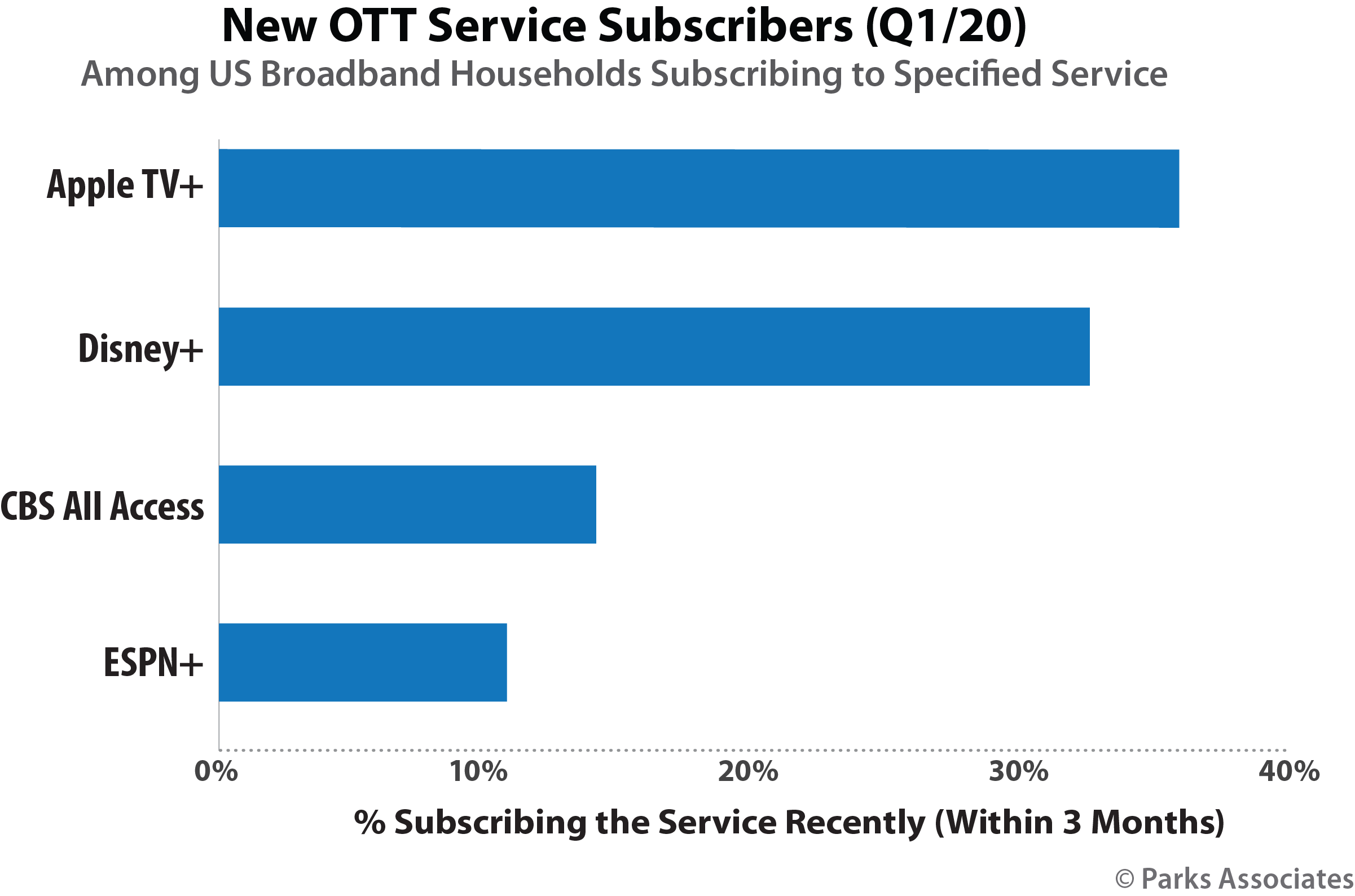 OTT service providers are tapping into the captive at-home video consumer base brought on by shelter-in-place orders and work-at-home mandates. The combination of free content, promotional offers, extended free trials, and early access to blockbuster theatrical releases will undoubtedly drive up OTT video consumption and engagement to unprecedented levels. But, the critical question remains, will this unparalleled level of consumption and engagement lead to paid subscriptions?
Parks Associates monitors and analyzes the OTT video space for our OTT Video Market Tracker, along with multiple other deliverables including COVID-19: Impact on Consumer Spending and Behavior, and we are observing many interesting trends as they emerge in the OTT space:
Consumers are reporting an increased use of internet video services: The by Parks Associates recent research from its Q1 2020 survey of 10,000 broadband households finds a 42% increase in the use of internet services, with many consumers likely trying internet services for the first time as they are sheltering in place.
Between Q1 2019 and Q1 2020, the percentage of consumers subscribing to an OTT video services jumped by six percentage points to 76%: With the increase in consumers spending time indoors due to the COVID-19 crisis, they are looking to video content to keep themselves and their families entertained. While use of existing video services is increasing, consumers are also looking to new services to access new content.

The severe economic impacts of COVID-19 will exacerbate the cordcutting issues faced by traditional providers and their higher-priced offerings. Consumers are putting their personal finances to much tighter scrutiny, leading to the potential further widening of the already-sizeable gap between OTT and pay-TV.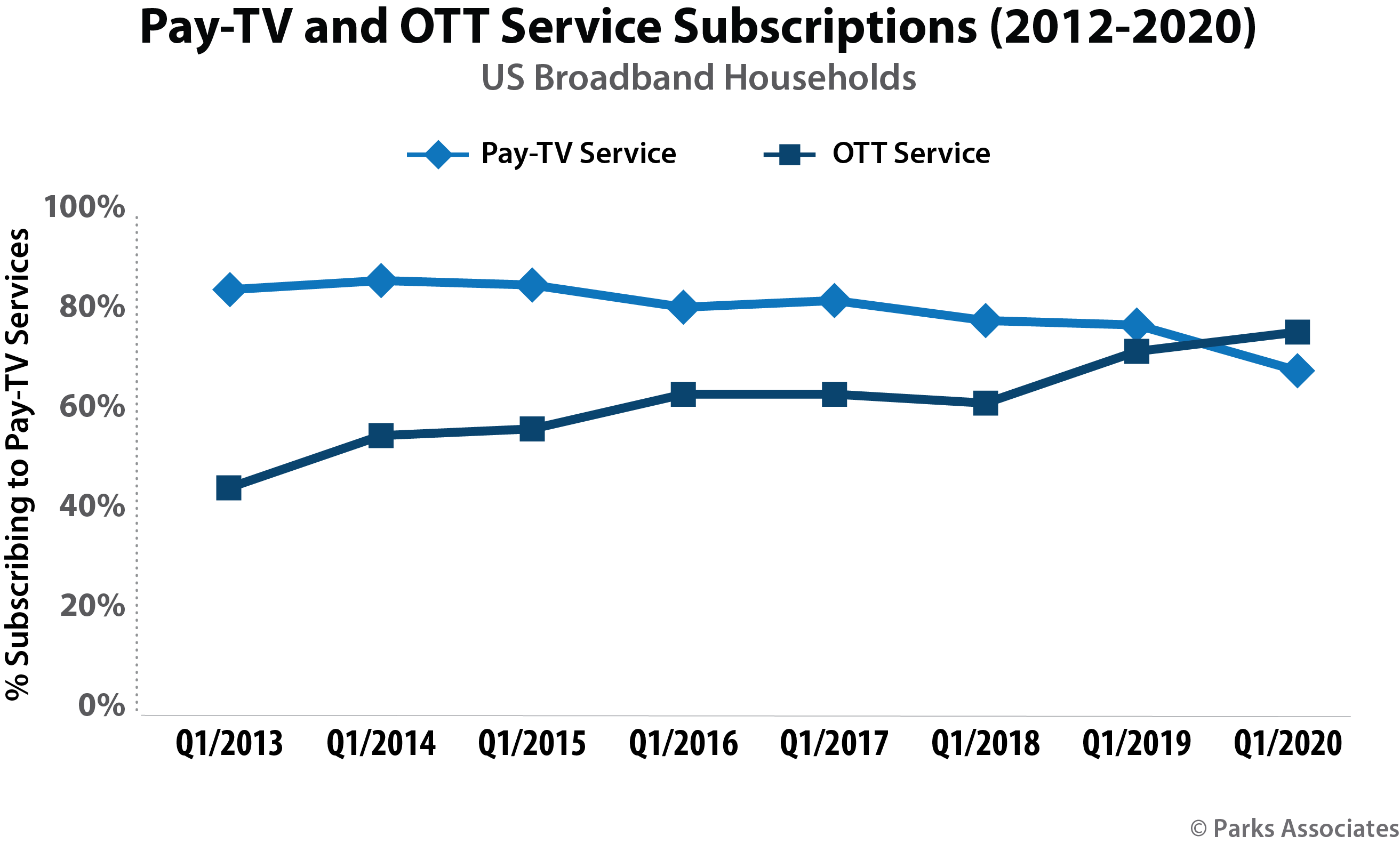 HBO Max, a subscription video on demand OTT service, launched on May 27, 2020 as the COVID-19 crisis continues into its fourth month. The service, priced initially at $14.99, debuts with over 10,000 hours of content from Warner Media assets such as HBO, Warner Brothers, Cartoon Network, CNN, DC Comics, TNT, and Crunchyroll. In addition, the service will premiere several Max Originals.
During this time of social distancing at home, consumers are much more likely to try out and subscribe to a number of OTT services, building up their service stack to find the optimal combination of services that best meet their content needs.
The opportunity is here for HBO Max, and other OTT services to convert engaged consumers like never before. With an incredibly diverse and deep reservoir of new and library original content, HBO Max is poised to become a major disruptor to the SVOD landscape. While demand in this market is very strong today, it is also important to closely follow new viewing habits, use of connected devices, and whether consumer entertainment habits have shifted long term. The impact remains to be seen.
Parks Associates is tracking the impact of the COVID-19 crisis on the video services space.
Results from Parks Associates' March 2020 survey are forthcoming in COVID-19: Impact on Consumer Behavior and Spending.
Results from Parks Associates April 2020 survey will dive deeper into consumer engagement with pay-TV and OTT video services, including new subscriptions to and cancellations of leading services, available in the forthcoming COVID-19: Impact on Communications and Entertainment.
For a deeper look at the OTT video space, please check out the Parks Associates' 360 Deep Dive: Adoption and Consumer Habits for vMVPD Services and the 360 Deep Dive: Adoption and Business Models: Video, Music, and News Services.
Next: COVID-19 and the dramatic increase of video consumption
Previous: Value-Added Services will be Critical to ISPs post-COVID Strategies

Comments
Be the first to leave a comment.
Post a Comment