Global Pandemic will Shift Consumer Behaviors and B2C Marketing Strategies
2020 marks an unprecedented time in US and global history. COVID-19 is the first worldwide pandemic to strike our modern society, impacting global supply chains, worldwide businesses, and consumer spending. It has prompted exceptional actions from regulators in terms of both public health and monetary and fiscal policy. 70% of US consumers report that they are following social distancing rules, and 30% report that they are under shelter-in-place orders or are otherwise self-quarantining.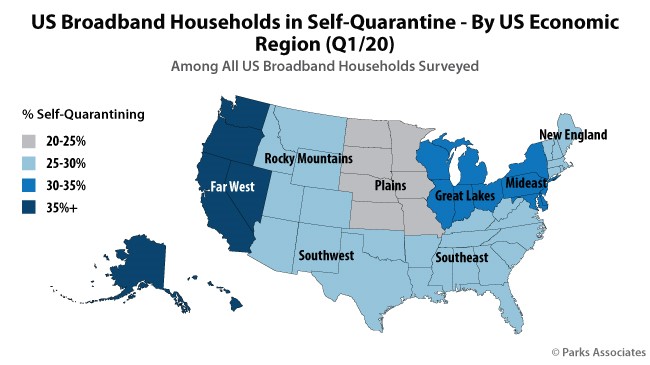 Over half of households with children under the age of 18 now have their children at home instead of at school, and over one-third of US broadband households have at least one household member working remotely. Never before have US consumers relied so heavily upon household technology and upon their home broadband connections in order to conduct their daily lives.
In spite of large impacts to employment and household income, consumers are increasingly turning to technology to keep themselves and their families productive and entertained. Subscriptions and trials to online services are growing, and self-reported intentions to purchase consumer electronics products have hit a six year high. Consumers are particularly realizing a need for computing and entertainment products – such as PCs, smartphones, tablets, smart TVs, streaming media players, and gaming consoles. But with many retail stores shuttered, and with Amazon's warehouses focused on providing essentials to consumers, access to desired goods creates a further limitation on consumer spending.
Parks Associates landmark new study, COVID-19: Impact on Consumer Behavior and Spending, positions results attained in the midst of the crisis (March 8 and April 3) amidst years of trending data reveals real shifts in consumer behavior, needs, and attitudes. It is within these shifts that industry players can more clearly ascertain the need and opportunity to provide consumers new goods and services, in new ways, via new channels – or for some – to begin to plan their bounce-back strategies.
Kristen Hanich, Senior Analyst, Parks Associates
Kristen specializes in bridging the gap between data-driven and narrative approaches to understanding the consumer markets via a mix of qualitative and quantitative research approaches. She has dual master's degrees in applied anthropology and public health from the Universities of North Texas in Denton and Fort Worth. She earned her BSc in health at the University of Texas at San Antonio and has a graduate certificate in Geographic Information Systems.
Next: Who is Parks Associates?
Previous: Solving the Five Security Threats: Complete Consumer Protection

Comments
Be the first to leave a comment.
Post a Comment