Fitness Device Use Highest Among Owners with Active Gym Memberships
by Harry Wang | Dec. 27, 2016
Fitness device use is most frequent among owners with active gym memberships with no cancellation plans
Over one in three fitness tracker and/or smart watch owners have an active gym membership and do not plan to cancel. Past research from Parks Associates has found that many as 10% of fitness tracker and smart watch owners have canceled or plan to cancel their gym memberships as a result of using their device. However, new research is showing that high device usage rate of active gym member suggests they use their devices to augment their existing fitness routines.
Fitness device owners with active gym memberships represent a highly fit and engaged user base.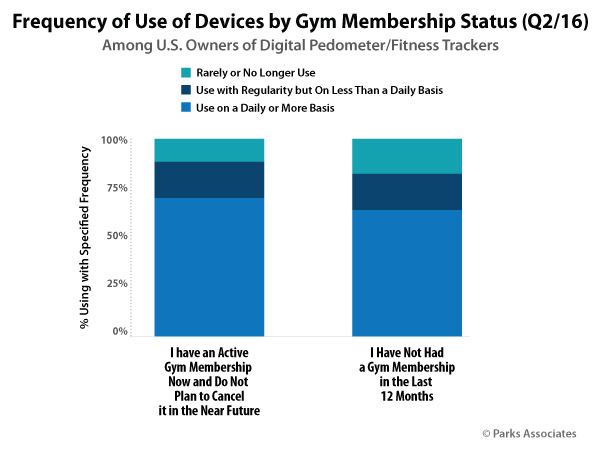 Next: Top 10 Consumer IoT Trends: Integration of healthcare services and devices in the smart home ecosystem
Previous: The Impact of Children on Adoption of Connected Health and Wellness Devices

Comments
Be the first to leave a comment.
Post a Comment