Factors Increasing the Likelihood of SMB Interest in Cloud-Based IT Services
by Patrice Samuels | Nov. 16, 2015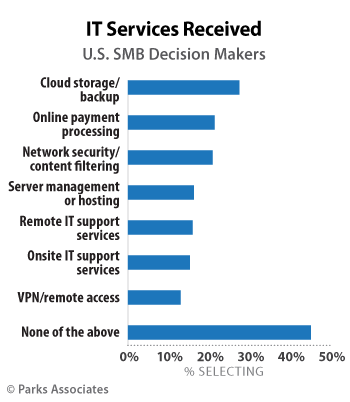 Small businesses (SMBs) represent a significant opportunity for IT products and services. These companies appreciate the advanced IT products and services that large companies use to enhance their operations but usually cannot afford the enterprise-class infrastructure, software, and solutions available to much larger businesses. However, small businesses are adopting connected devices at a significant rate—businesses with 10 or fewer employees own 10 connected devices, and those with 11 to 25 employees average 22 devices.
IT service and solutions vendors are increasingly supplying enterprise-level products and services to small businesses via new business or delivery models. Today, small businesses can leverage productivity, security, and other tools via cloud-based, Software-as-a-Service (SaaS) offerings. The use of these products allows small businesses to reach markets globally and to appear competitive with much larger enterprises.
Given the unique nature of SMBs, interest in various cloud services differ. Several factors increase the likelihood of SMB interest in cloud-based IT services:
Company size – Companies with 10 or more employees show significantly higher interest in IT service offerings than smaller SMBs. As with IT spending, interest in IT services significantly increases once companies reach a certain size. Approximately 44% of companies of between 11 and 100 employees indicate interest in cloud-based IT services, compared to just 28% of smaller SMBs.
Companies with virtual workers or remote locations – Cloud-based IT services offer unique tools to enable collaboration and communication and also allow remote employees to access the same business applications, databases, and documents as employees in the office. Companies with high telecommuting rates have the highest interest in and uptake of IT services.
Knowledge companies – Information resources in knowledge-based companies are critical to the company's competitive advantage and success. These companies are often willing to acquire additional services to protect these resources. Professionals in these industries also tend to rely heavily on computers and specialized software, so they are often more open to technical support and other IT products and services that improve service efficiency and minimize business downtime.
Device-intensive businesses – Businesses that have a high number of connected devices are more likely to encounter device-related technical problems and interoperability issues than businesses with few devices, making them more likely to seek IT support services, as well as services that help them maintain network connectivity and manage network security.
Schools – Most schools have broadband access and need IT services to support their growing networks. Many schools are interested in leveraging their E-rate program funds or using any subsidized cloud-based services that can benefit their students, teachers, and administrators.
Companies reliant on mobile devices or workers – Tablet use for business purposes is becoming more prevalent. Companies use tablets and smartphones for order entry, operational management, information sharing, and other business-critical tasks. Sales organizations increasingly rely on mobile platforms to connect employees to CRM and other systems. Cloud-based IT services and remote support services are needed to maximize the utility and uptime of mobile platforms.

Though interest among SMBs for cloud-based productivity applications is lower than for other IT products and services, opportunity for these products is strong. More than half of SMBs willing to pay for these types of applications do not currently receive them. This unmet demand presents a strong opportunity for tech support vendors.
For more information, see Parks Associates' industry report IT and Support Services for Small Businesses.
Further Reading:
Next: Parks Associates' Take on the Yahoo Security Breach
Previous: Identity & Data Theft Among Highest Security Concerns in U.S. Broadband Households

Comments
Be the first to leave a comment.
Post a Comment