Facebook & Skype Revealed as Most Popular Smartphone Messaging Apps
by Tejas Mehta | Oct. 2, 2014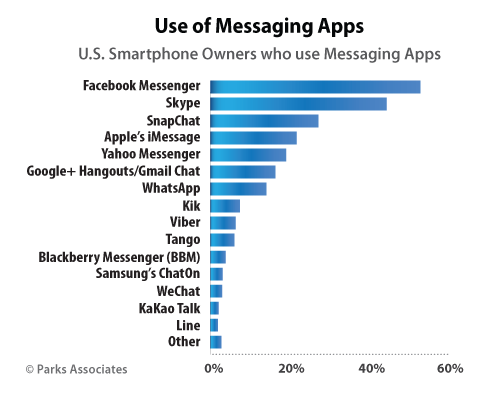 Facebook Messenger and Skype are the most popular messaging apps in the U.S., with 53% of messaging app users using Facebook Messenger and 45% using Skype, according to new research that Parks Associates released today.
The research also shows:
Smartphone penetration has exceed 75% of U.S. broadband households.
Global OTT messaging volume will grow from 10 trillion messages in 2013 to nearly 67 trillion messages in 2018.
Global text messaging volume will decline from nearly 9 trillion messages in 2013 to just over 6.7 trillion messages in 2018.
At the beginning of 2014, 34% of U.S. smartphone owners used a messaging app on a monthly basis.

The report also provides forecasts through 2018, with recomendations for service providers, app developers, and mobile carriers. Commenting on future trends for the market, Tejas Mehta said, "Very soon messaging will be cloud-based and delivered as a service. This trend will clip SMS revenues for mobile carriers, traditionally a key revenue source for these companies. Mobile carriers need a multifaceted approach to manage the impact and remain relevant. They must offer value to subscribers through enhanced features and also work with technology partners and third-party service providers to leverage key assets in order to deliver strong value propositions to their subscribers."
For more information on this report, click here. If you would like to talk with Parks Associates' mobile analyst for more comment, please contact Holly Sprague via email.
-------------------------

Tejas Mehta is part of the Digital Health and Mobile Product research team. He studies mobile industry trends including wireless carrier strategies, wireless network optimization and monetization strategies, wireless devices, mobile app ecosystem, and other mobile related services.

-------------------------
Industry Report Available for Purchase: The Post-SMS War for Mobile Communications: Messaging Apps
Further Reading:
Next: Parks Associates is Supporting HealthBeat 2014
Previous: The Location Labs-AVG Marriage: The View from the CEO's Desk

Comments
Be the first to leave a comment.
Post a Comment