Explosive Growth in Audio Market Focus of Research Report
by Kaitlin Hawkins | Apr. 21, 2014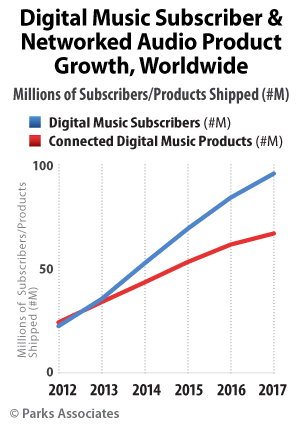 Parks Associates' digital music report, Evolution of Digital Music on Connected Devices, finds that since 2011, the number of consumers in U.S. broadband households listening to streaming audio services has grown 130%. This rapid growth can be attributed to the expansion of connected CE devices such as such as A/V receivers, all-in-one home theater systems, wireless speakers, speaker docks, speaker bars, multiroom digital music systems.
In this report, Parks Associates analysts outline the core technologies and trends within the digital music landscape, including those forces driving the growth of the audio market. Several companies are included in the research data, including Apple, Bluetooth, Pandora Media, Rhapsody, Rovi, Sony, and Texas Instruments, among others. The report also includes five-year forecasts on subscribers, revenue, and growth rate within the market space.
For more information on this report, contact Parks Associates via email.
Next: The Heartbleed Bug: Exposing Online Vulnerability
Previous: Microsoft XPocalypse – What Will Small Businesses Do?

Comments
Be the first to leave a comment.
Post a Comment