Energy management networks forecasted to be in over 9 million US households by 2014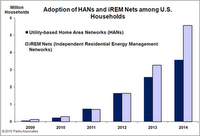 Parks Associates' report Residential Energy Management: Forecasts for the Deployment of AMI and the Adoption of Energy-saving Products and Services finds over 80% of U.S. consumers are interested in reducing expenditures on energy consumption and willing to pay for cost-saving solutions. Cost-saving products and services that generate consumer interest include programmable thermostats, energy monitors and systems enhanced with energy-management capabilities, smart appliances, and energy-efficient CE systems.
However, the amount consumers are willing to spend does not cover the costs of required systems, creating a need for innovative business models that will enable a new energy management service industry.
Utility-based home area networks (HANs) are only one of several options for these solutions and services to enter the consumer market. By 2013, iREMs will outnumber utility-based HANs. By 2014, the vast majority of the nine million U.S. households with an energy management system will have an iREM. Engaging consumers is critical to success in this market. Business strategies must be developed that comprehend the magnitude of consumer education and support required for offerings in this arena.
Next: European Research Update: EU Developments in Digital Living
Previous: Parks Associates' Director of Home Systems Research speaking at Smart Grid V-Summit

Comments
Be the first to leave a comment.
Post a Comment