End of iTunes Signals New Age of Piracy
by Billy Nayden | Jun. 12, 2019
On June 3 at its annual Worldwide Developers Conference, Apple announced the end of one of its flagship programs. iTunes, the media management and marketplace that was once synonymous with online music for a generation, will end its 18 year run as the primary tool for Apple customers when the new MacOS launches.
While the nostalgia of uploading Green Day and *NSYNC CDs to a computer (and subsequently to an iPod) probably makes many millennials long for the romantic simplicity of iTunes silver and blue interface, the primary inspiration for iTunes came from a desire to combat piracy. As illegal P2P networks like Napster and Limewire gained traction in the market, iTunes sought to disrupt the music industry by selling songs for $0.99 apiece, and consumers responded positively. Eventually, this music model expanded to podcasts, movies, and TV shows, making iTunes one of the formative media management and purchasing tools of the digital age.
However, that original mission of combatting piracy is no longer needed, as the world of digital media has shifted, and so too has the idea of piracy.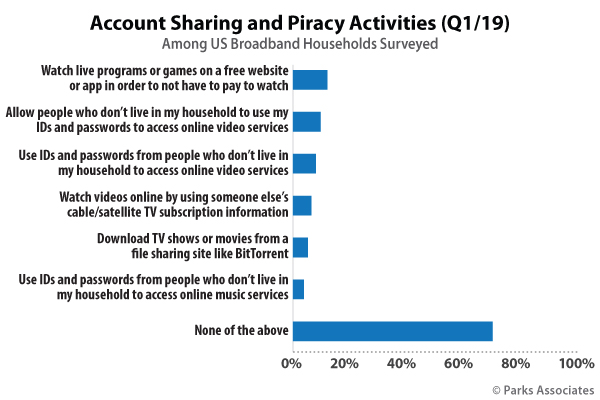 Downloading media from file sharing websites and using credentials for online music services rank among the least popular piracy activities among broadband households in 2019, demonstrating that the piracy problems of old have subsided in favor of new fronts. Additionally, data on transactional service use indicates that consumers are simply not purchasing digital assets to own them at the same rate as in the past.
Instead, subscription services, offering an all you can eat buffet of media assets, have become the preferred business model for consumers. Music services like Apple Music and Spotify have replaced iTunes in the lives of consumers, providing access to a massive library of music, including new release albums, artist-curated playlists, and custom radio stations. With this option available, most consumers have left the age-old process of a la carte song purchases in the past.
Incidentally, this business model has also virtually eliminated the need to continually pirate songs that users want access to. Whenever a user wants to listen to a new song on a music streaming service, they can simply search the library and listen with no additional charge. Additionally, the individualized customizations and recommendations embedded in many music streaming services discourage piracy, as the services are more robust when employed by a specific user.
Thus, while iTunes may have a special place in the hearts of consumers, ultimately the digital media world has passed it by. As consumers reflect on their first time listening to an iPod on a school bus, or long nights browsing the extensive iTunes catalog of entertainment as new titles will release, their current day behavior reflects the growth and evolution of the industry. While the days of individual song purchases and pirating may be gone, they have been supplanted by an age defined by account sharing and livestreaming of copyrighted content.
Further Reading:
Next: Key Takeaways from AT&T SHAPE 2019
Previous: Can I Have a Large Popcorn... and a Movie Subscription?

Comments
Be the first to leave a comment.
Post a Comment