Disney+ Making Strong Case to Break into Big Three OTT Services
by Billy Nayden | Apr. 15, 2019
At the investor day presentation on April 11, Disney announced a number of details of its new streaming service, Disney+, slated for release in November of this year.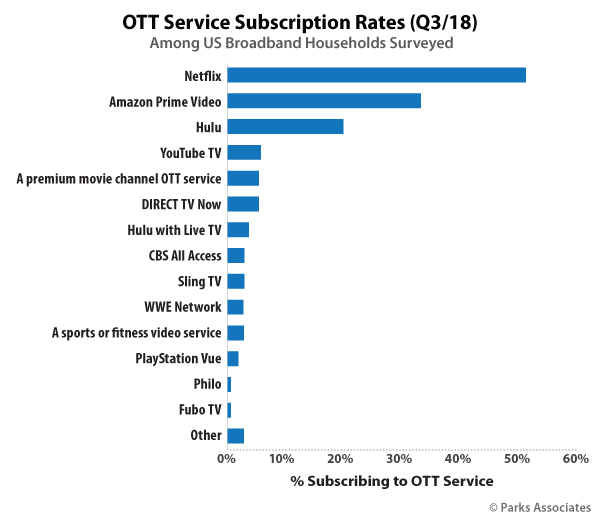 This play by Disney is to enter the rarified air occupied by the "big three" OTT services – Netflix, Amazon Prime Video, and Hulu. Ninety-one percent of US broadband households who subscribe to at least one OTT service subscribe to at least one of the big three services, representing 64% of all broadband households. These three services have dominated the OTT space for a number of years, but Disney is using its experience in the video industry to challenge the big three with an OTT offering of its own.
As expected, the first front Disney will attempt to compete on is content; the company announced a stellar lineup of popular franchises that rivals, or even surpasses, the current offerings from any current OTT offering. Disney promised both legacy and original content from popular franchises like Marvel, Star Wars, and Pixar, as well as the complete catalog of the Signature Collection, Disney Channel Original Movies, and the Simpsons on the day of launch. Disney also announced an expected 25 original movies, 10 original series, and over 400 titles from the Disney library within the first year. The variety and depth of content offered by these popular franchises will make Disney+ a compelling purchase for many households, particularly among families which may have a wide range of ages and content tastes under a single roof.
Perhaps the most unexpected announcement from a service offering premium content is the price point, which is shockingly affordable in a crowded OTT space. Disney+ will retail for $6.99 per month or $69.99 per year and feature no ads on the platform. This compares very favorably to Netflix's cheapest subscription option ($7.99 per month), Amazon Prime Video's annual subscription ($119 per year), and even Hulu's ad-supported subscription option ($5.99 per month). It appears that come November, Disney+ will be prepared to compete not just on content with the big three, but also on price.
Furthermore, the bundling opportunities presented by Disney's large media business reveal a number of exciting sales channels for the service. After the 21st Century Fox acquisition, Disney now owns 60% of Hulu. Rather than keep its streaming services distinctly separate, Disney announced plans to sell Disney+ subscriptions through Hulu, similar to the way that they sell premium movie channel subscriptions (e.g. Showtime) currently through the service. Additionally, the success of ESPN+ (which currently has two million subscribers despite launching just a year ago) presents an interesting bundling option for Disney+ to provide live sports in addition to on-demand video.
Wall Street responded extremely favorably to these details about the new streaming service, as Disney shares rose 10% on Friday morning, hitting a record high for share price. Compared to the lukewarm reaction to Apple's streaming announcement just three weeks ago, this Disney+ announcement appears to be a success—at least in the short run—from an investor perspective.
Unseating the established brands in OTT services will be extremely difficult, as content companies stretch the limits of consumer spending by providing more and more services at increasing costs; however, Disney appears poised to make inroads with consumers when the new service launches in November. None of the current big three offerings can compete with Disney+'s content library, price point, or bundling potential, making it an extremely enticing offering for consumers.
Further Reading:
Next: OTT Services and Walled Gardens: NBCUniversal, WarnerMedia and the Future of Hulu and Netflix
Previous: Virtual Reality continues Steady Growth at CES 2019

Comments
Be the first to leave a comment.
Post a Comment