The Impact of COVID-19 on Home Security
by Dina Abdelrazik | Apr. 9, 2020
The residential security industry has made significant efforts to expand the market beyond the roughly 30% of broadband households that have a security system. The entrance of tech giants and MSOs raises awareness of security solutions; new business models emerged as a result of changing consumer preferences; and technology advancements such as video analytics, audio analytics, and voice control are improving the user experience. As a result, the security industry is finally able to reap the benefits of increased security system adoption. While security system adoption held steady at 26-27% from 2016-2018, in 2019 a 5% increase moved the arrow to 32-33%. Furthermore, the professionally monitored industry experienced significant gains rising from a 24% adoption rate in 2018 to 29% in 2019.
Though year-end 2019 results indicate a big win for the residential security industry, in 2020 the security industry faces the COVID-19 pandemic and its economic implications. The status of the general economy points to an impending recession as businesses shut their doors, employees lose their jobs, and consumer demand for certain products and services lessen (while others increase) as disposable incomes diminish. The security industry was long thought to be recession proof, but 2009 proved otherwise. The Great Recession took a toll on the security industry as conditions hit it vigorously. These included foreclosure, unemployment, declining home values (in some areas radical decline), a lack of mortgage availability, and for some years, very low moving rates.
The security industry does have recession-resistant characteristics, as concern for the safety of one's family and possessions often strengthens in times of uncertainty and struggle, but this resistance does not equal immunity. The residential security industry is facing the following strong headwinds, as well as notable tailwinds, during this pandemic: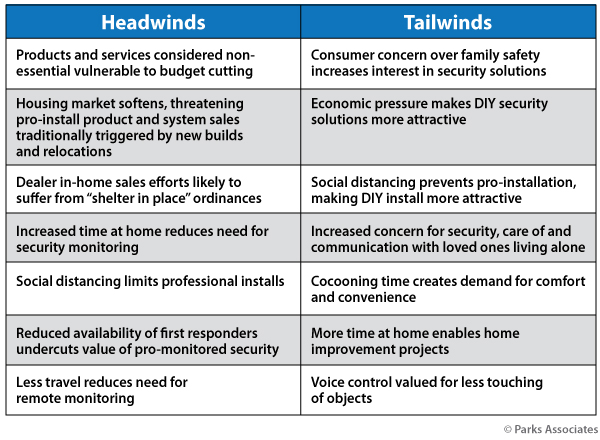 Security dealers and companies may take these tailwinds and headwinds in consideration and adjust their strategies accordingly. For instance, they could embrace professionally guided self-installation as a method of installation since pro-installers are no longer entering the home. Additionally, pivoting messaging toward safety rather than security and positioning oneself as a "servant to the community" are alternative ways to sell during a sensitive time for consumers. This type of shift in messaging/positioning may be more effective in the long run.
While the security industry has bounced back and expanded after the Great Recession, security system and monitoring providers will need to monitor the COVID-19 economic climate, remain innovative, and be ready to adjust quickly. Messaging safety during this time is vital – the spike in gun sales alone is a key indicator of consumers' desire for safety.
Parks Associates is tracking the impact of the COVID-19 crisis on the residential security space.
Parks Associates March 2020 and April 2020 surveys track security system ownership, professional monitoring subscriptions, and security provider NPA scores.
Parks Associates April 2020 survey investigates the vulnerability and social isolation of seniors during COVID-19 and the use of/potential for connected home products to mitigate circumstances among both patients and caregivers
Parks Associates May 2020 survey will dive deeper into the residential security and smart home markets, consumer security, safety, and lifestyle needs, relocation and renovation plans, and intentions to purchase security and smart home products.

For a deeper look at the Residential Security space today, please check out Parks Associates' Quantified Consumer – Residential Security: Consumer Insights 2020.
Next: Consumer Attitudes: Feeling Safe Enough at Home
Previous: Interoperability: CHoIP, Zigbee, Z-Wave, OCF

Comments
Be the first to leave a comment.
Post a Comment