COVID-19 Impact on The Smart Home Experience - Insights from Sutherland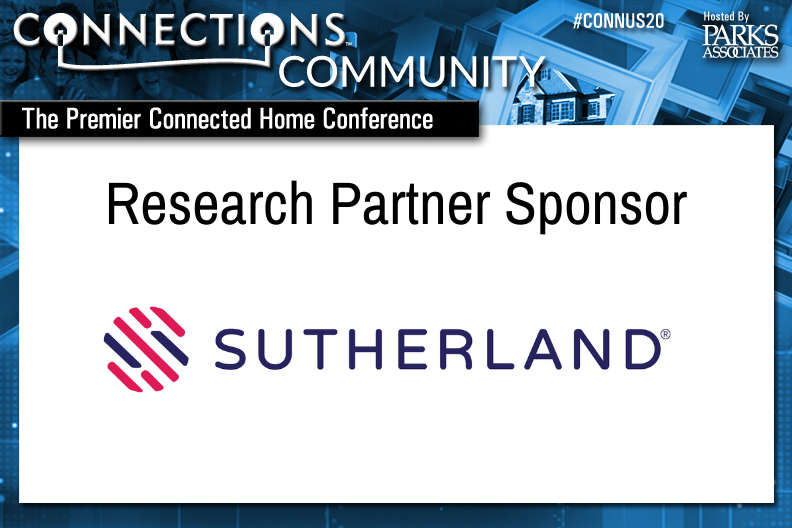 Parks Associates' CONNECTIONS Community will hold this year's CONNECTIONS™: The Premier Connected Home Conference online. This virtual experience focuses connected home and IoT industries. Bharat Chadda, Senior Vice President of Technology, Media and Communications Vertical, Sutherland will speak at on the session, Support: Onboarding and Ongoing Services on October 7, 2020.
Research Partner Sponsor Sutherland shared their thoughts on the current global pandemic and its impact on the smart home industry.
What do you anticipate the impact of COVID-19 to be for the smart home industry, in the short term and long term?
In the short term, as we see more people staying at home and close to home, there will be more adoption of IoT technology. A larger base of IoT users will lead to growth of the industry, more user upgrades and more new technology development in the long term. For smart home tech providers to capitalize on user growth, it will be key to develop relevant and easy to use, easy to adopt technology. Ease of installation, integration with other IoT devices and security will remain key priorities for consumers.
As the number of connected devices in consumers' lives increase each year, what solutions need to be created to allay rising consumer concerns around data security and privacy?
Developing an industry standard would be an ideal way to address risks and to also bring a baseline level of comfort to consumers. At the very least, companies need to embed security into devices. A "quick connect" process to integrate all devices to network and security software would be a valuable functionality. There is a significant opportunity here for B2C companies like McAfee and Enterprise firms like Crowdstrike.
As the smart home experience expands outside the home, how will the role of the car evolve as part of the smart home ecosystem?
The car will become an extension of the home / living space. Users will check their home temperatures - setting heat or air conditioning from their cars on the way home. They'll pre-heat their oven as they leaving the school pick up line. With electric cars requiring charging stations to be created at homes and features of the home like pool lights, patio speakers and sprinklers being app or home assistant managed – the home and car technology will blur. Car software systems will need to be expandable to accommodate this type of usage and WiFi-enabled cars will be even more desirable. Given all these access points, security will remain a key concern for the protection of data.
What is necessary to build a seamless smart home experience that crosses brands, platforms, and ecosystems?
Ease of install and general integration is necessary first and foremost. Standardization would reduce friction in the experience as well. Think about what Apple has done with their Air Pods – you open the case and Bluetooth automatically connects for immediate functionality. That's the level of ease that will drive high adoption and brand advocacy.
What impact will emerging technologies like AI, machine learning, and blockchain have on the smart home? What are the associated challenges with implementing these technologies in the home?
AI will assist in identifying usage patterns, user preferences and opportunities for additional technologies. Machine learning will improve user experience by engaging demonstrated preferences. These technologies will also help to identify gaps in usage and capabilities not being accessed.
How will service providers adapt to the "new normal"?
Service providers will require full adoption of digital solutions so new and efficient support strategies can be developed. We see voice as a declining channel as users will prefer live digital channels like chat bots and conversational assistants. The best service providers will provide support options that "show and teach" as they solve.
What innovations have you seen that will address the existing needs of the elderly to enable independent living in the smart home?
This is a critical segment but we don't really see it being addressed by anyone yet. It will become even more critical as baby-boomers age into this group. Many in this generation have embraced smart phones and smart home devices and will be looking to leverage them for independent living in their senior years. Innovations in this area will create a strong market for in-home installation and white glove support services.
How will the continued rise of DIY security expand the smart home? What challenges will DIY players face in 2020 and beyond?
Lack of platform standardization, or at least commonality, will create challenges for DIY'ers. Integrations, and simple integrations, will also be key to driving expansion into other DIY technologies.
What strategies are needed to achieve a unified experience in the home for consumers between smart home and connected entertainment products and services?
Product design must be done with customer experience at the forefront. Products and devices that are easy to install, integrate effectively and available "anywhere on the planet" will create the most unified experiences for consumers. Companies need to deploy AI technology to drive tailored experiences and use smart monitoring process to identify and preempt outages or other issues.
Next: What's next in the Canadian Smart Home Industry?
Previous: Connected Cars: API Integration and Addon Features - InstallerNet Insights

Comments
Be the first to leave a comment.
Post a Comment