COVID-19: Impact on Consumer Technologies
by David Drury | Aug. 17, 2020
The COVID-19 crisis is significantly affecting broadband household behavior and spending. With record-level unemployment and continuing uncertainty about the future, consumers have cut discretionary spending and continue to be cautious about the economy, the start of school, and overall impact. While spending cuts affect most product categories, consumers continue spending on technology for productivity and entertainment.
Purchase data from Parks Associates' surveys show this increased entertainment spending as do anecdotal conversations with retailers. CE and computer purchases have increased for the first time since 2011; households also report higher usage of services that facilitate minimum contact with persons outside of immediate family. 2020 has also been an unprecedented time to be in the telecommunications and entertainment space as consumers have never before relied so much on technology to keep themselves connected and informed.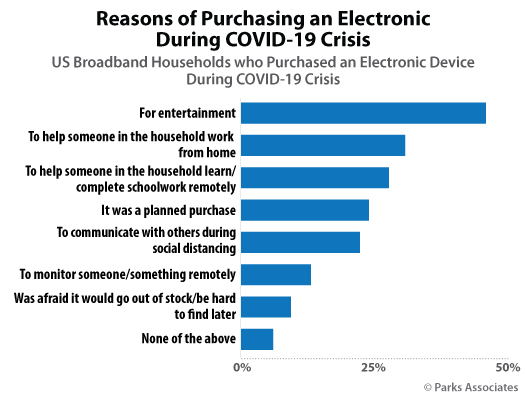 Uncertainty still surrounds in-school instruction for students and timing for workers returning to their place of employment. It is reasonable to expect consumers will continue practicing their far-reaching lifestyle changes well into 2021. This social environment will continue to drive purchasing for essential products and services currently in demand, as well as prolong weak spending on non-essentials. Consumers report strong intentions to continue buying computer and home networking devices, home video and entertainment devices and services, and smart home devices and services over the next 12 months.
With the ongoing global pandemic, strong demand for technology products and services will continue into next year. The drivers for this new demand – remote work, children at home, and sustained time in the home – will likely result in permanent changes to the ways we live. As of July, 35% of US broadband households reported that at least one household member worked remotely. While some workers have since returned to the office, many remain at home as businesses act to protect their workforces from infection.
As we move forward, there is a heightened risk of new waves of shutdowns in many regions of the US. While this is likely to result in a similar boost to broadband and video service adoption as seen this spring, it may also bring additional blows to the economy. While consumers are relying heavily on communications and entertainment services at this time, worsening financial conditions may give them no choice, but to cut back.
To address this new normal, service providers should be actively pivoting to new features, services, and product lines. A great deal of opportunity exists in solutions that specifically address the needs of remote workforces and remote learners.
While communication services and purchased of CE device have increased, there has also been dramatic changes in the connected health market as a result of COVID-19. In the beginning of the year, use of telehealth services skyrocketed, with a nearly 3x YoY growth, from 15% of US broadband households to 41%. This has resulted in consumers becoming more familiar with and interested in all types of telehealth services, including services that allow them to share data from medical devices in their homes. Consumer experiences with telehealth are opening up a new market for remote patient monitoring solutions. Our latest research shows that 47% of US broadband households have taken at least one step to protect a senior family member against COVID-19, including shopping, video chats, or buying new devices for entertainment and health monitoring.
Our research will continue to evaluate consumer spending and behaviors, including the long-term impact of COVID-19 on the use of technology in the home.
David is a research director at Parks Associates bringing over fifteen years of experience in teaming with clients, gaining an understanding of their needs, and leveraging his expertise in research and spatial analytics to provide them intelligence to address their business requirements.
Next: The Smart Home and the New Normal - Mercku
Previous: Unnamed

Comments
Be the first to leave a comment.
Post a Comment