COVID-19's Impact on Video Consumption: The Smart TV Experience
The COVID-19 health crisis has fundamentally impacted the lifestyles and routines of all consumers. Shelter-in-place orders and work-at-home mandates have driven in-home video consumption to unprecedented levels, with nearly 3 in 10 US broadband households reporting an increase in usage of online video services and nearly 1 in 5 reporting an increased use of pay-TV services.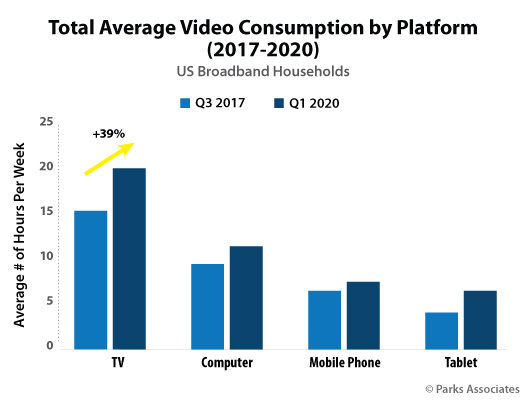 Parks Associates' new whitepaper, Optimizing the Smart TV Experience, in cooperation with Applicaster, highlights the evolution of video and the TV in the home, the role of technology in pushing the smart TV further to the forefront of the in-home video viewing experience, the impact of COVID-19 and disruption on video consumption, and the future state of the smart TV experience. It also addresses the importance of integrating a video offering within the smart TV app ecosystem to help drive content discovery and create an optimal user experience that better attracts, engages, and retains video customers.
This current era, marked by the COVID-19 pandemic, has accelerated in-home video consumption to levels never before seen. While the smart TV has been a mainstay of the home entertainment experience for many years now, technological advancements, the continued proliferation of video apps, and the improved interoperability and connectivity with other devices has pushed the smart TV to even greater heights in the home.
Additional Parks Data:
76% of US broadband households subscribed to an OTT service in Q1 2020, while adoption of traditional pay-TV services decreased to 62%
From Q1 2019 to Q1 2020, more than 6 million US broadband households cut the cord on their traditional pay-TV service, primarily transitioning to OTT services or broadcast TV via antennas
7 in 10 US broadband households own at least one internet-connected video device
The smart TV is now a mainstream product with more than half of US broadband households owning at least one

To download this whitepaper, visit http://www.parksassociates.com/whitepapers/smarttv-exp.
Next: TV's Journey to the Cloud
Previous: New Services Threaten Big 3 in OTT

Comments
Be the first to leave a comment.
Post a Comment