Consumers Layer More Self-Installed Devices on Security Systems
by Brad Russell | Oct. 12, 2016
Safety and security in the home has expanded beyond the long-term mainstays of burglar and fire alarms. There are now varied smart home devices that provide security and safety in the home as well as convenience and peace of mind for the consumer. Key industry players are leading various sales channels for these devices, with security system providers at the forefront of that effort.
Security system providers represent the sales channel for about one-third of all the safety and security connected devices, which include smart door locks, garage door openers, smoke detectors, water leak detectors, combination sensors, and networked security cameras. Nearly 40% of networked cameras and 30% of smart door locks were purchased from a security provider.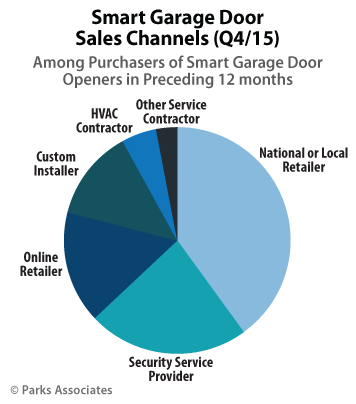 For devices that are more easily self-installable and more frequently function as standalone devices, both brick-and-mortar and online retail sales channels are strongest. In several device categories, the combined portion of all retail sales has been growing, as has the portion of online-only sales (Amazon) versus those through national or local retailers. Forty percent of smart garage door openers were purchased through a national or local retailer, compared to 16% through an online retailer.
Retail sales of smart door locks increased significantly in 2015 compared to the year prior. Purchases from a national or local retailer increased from 17% in 2014 to 31% in 2015. Likewise, purchases from an online-only retailer like Amazon tripled, from 4% in 2014 to 13% the following year.
This retail shift results from multiple factors, including increased consumer awareness of retail availability, a perception of easy enough self-installation, the availability of retrofit models that do not require new hardware, and retailers providing more shelf space for smart locks than in the past. Security service providers, which include security dealers and broadband providers of security services, account for one-quarter of smart door lock sales.
Even with the recent emergence of self-installable devices with strong brand appeal, smart safety and security devices are largely purchased by households who own a functioning security system and have it professionally monitored. This segment remains the heart of the industry, as smart security device owners are largely layering self-installable devices on top of their monitored systems. This trend affirms the need for more cloud-to-cloud integration of various self-installable devices, as consumers will want to bring their own devices to their subscription services.
While the security channel remains the leading one for smart home services, the increased awareness of smart home devices and home control systems has created a shift. An increasing percentage of those intending to purchase a smart home device now intend to acquire their devices as part of a home control system, rather than as part of a home security system.
There has also been a shift from home security to home control due to the increasing awareness of home control and self-installable products. Current owners of smart home devices have more often purchased them when acquiring or upgrading a security system than Purchase Intenders believe they will do. For instance, over 60% of owners of door locks acquired them as part of a home security system and less than 10% as part of a home control system. Among Purchase Intenders, only 32% plan to acquire door locks as part of a security system while nearly 40% plan to purchase them as part of a home control system.
As smart home devices continue their market expansion, security and safety device manufacturers will find opportunities as standalone brands and in partnership with security and home control systems. For most smart home security device categories, no one brand or small collection of brands will dominate the category. The security channel will remain strong for connected devices, but self-installed, standalone devices and a greater awareness of home control uses will help promote an increase of sales in the retail channels, both in-store and online.
Further Reading:
Next: Qorvo: Fragmentation is key challenge to Europe rolling out new smart home products and services
Previous: Focusing on consumer needs will bring success to European smart home industry: Insights from SkyBell

Comments
Be the first to leave a comment.
Post a Comment