Consolidation in the TV Industry
by Barbara Kraus | May. 11, 2016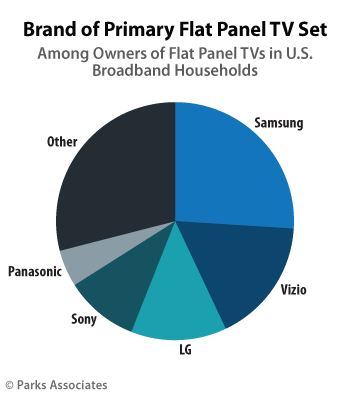 With declining sales in many connected home entertainment categories, consolidation in the TV industry over the next five years will continue to have an impact. Television manufacturing and distribution is a prime example. In the U.S., more than 70% of U.S. broadband households use one of five brands—Samsung, Vizio, LG, Sony, and Panasonic—as their primary flat-panel TV. A similar concentration of four TV brands are purchased by 68% of U.S. broadband households for all flat-panel TVs—Samsung, Vizio, LG, and Sony. In essence, the market has already consolidated, with the majority of consumers expressing preference for a handful of brands.
Sharp, the primary TV brand of choice for 3.3% of U.S. broadband households and the choice of 2.4% flat-panel purchasers in 2014, is already exiting the U.S. market. The brand name will still exist but will be leased to Hisense, a large Chinese manufacturer that wants to gain share in the U.S. market. Sharp will lease its Aquos and Quattron brand names to Hisense as well. It is likely that other manufacturers will follow suit in terms of exiting various markets either by leasing their brand names and technologies, as Sharp has done, or simply exiting specific regions or the business as a whole.
In many cases, there may not be a compelling reason to acquire a TV manufacturer. No company is going to acquire a TV maker for the potential hardware profits. With its initial public offering (IPO), Vizio is not selling the mainstays of a hardware manufacturing entity—manufacturing, logistics, and distribution—but rather the potential of TVs to deliver data and e-commerce platforms. The core mission listed in Vizio's IPO filing is "to deliver the ultimate entertainment experience through [Vizio's] community of connected consumers, advertisers, and media content providers."
In any device category, top brands will continually assess the strategic benefits of absorbing competitors and other technology companies in order to own compelling innovation, protect and grow market share, or reduce competition. Smaller companies such as Vizio and Roku may face challenges in sustaining a business model when surrounded by massive companies with enormous brand awareness, brand strength, and budget. However, Roku has maintained its advantage
CE makers that excel at generating alternate revenue streams from data generation, analytics, advertising, and e-commerce will be the biggest takeover targets—that knowledge and expertise will be invaluable. On the other hand, companies that essentially remain hardware companies are likely to generate little profit as well as little interest from potential acquirers. Ultimately, the monster brands will have the size and scope to generate more efficient alternate revenue streams which will, over time, effectively result in fewer brands on the market.
For more information on this industry research, see Parks Associates' report Connected CE: Trends and Innovation. The 2016 CONNECTIONS Conference will also host several sessions focusing on innovations in connected consumer electronics.
Further Reading:
Next: Cloud-based Connectivity and Connected Cars
Previous: Connected CE: Mining Customer Data and Consumer Concerns

Comments
Be the first to leave a comment.
Post a Comment