Connected Health Needs of Caregivers: Q&A with Harry Wang
According to Parks Associates research, connected health adoption is on the rise—since mid-year 2014, adoption of connected health devices has increased over 40%. Today, 36% of U.S. broadband households own a connected health device, but there is room to grow.
Before the 2016 Connected Health Summit, taking place next week in San Diego, Parks Associates senior director of research Harry Wang discussed the role of caregivers within the digital health ecosystem.
What is driving the interest on the caregiver side of the mHealth equation—the fact that caregivers have a smartphone or that they want 24/7 access to such info?
Harry Wang: Caregivers are under not only physical but also emotional burdens. Caregiving support apps enable caregivers to find help when they need it and provide timely patient info to give them precious peace of mind.
As nearly 50% of chronic condition patients have used at least one health app, does that mean greater adoption and use in the next year despite some concerns about app security and accuracy? The fact a patient has used an app doesn't mean they're app advocates, right?
HW: It is an encouraging sign that patients with chronic conditions are beginning to use mobile apps for their care needs. However, they still need support—from their doctors, family members, and even peers—to really benefit from using such apps.
As 30% of smartphone owners are using an app to track diet and nutrition—how robust is that for future app embracement? Diet and nutrition are a long way from tracking, monitoring health status indicators, and sharing information, right?
HW: Tracking alone is a leap forward for these consumers because previously these efforts were not easily quantifiable and sharable. Now, app developers must step up—they must continue improving their apps to add engaging features and demonstrate to both patients and the healthcare industry that their apps can help consumers improve health.
Overall, what does current research reveal in terms of mHealth adoption/use/trust among consumers with health conditions?
HW: Every market is evolutionary, and so is mHealth. The industry is moving steadily to use technology for better patient care. Consumer health behavioral changes require care providers' collaboration and smart approaches to engage consumers/patients. Technology is a means to this end game.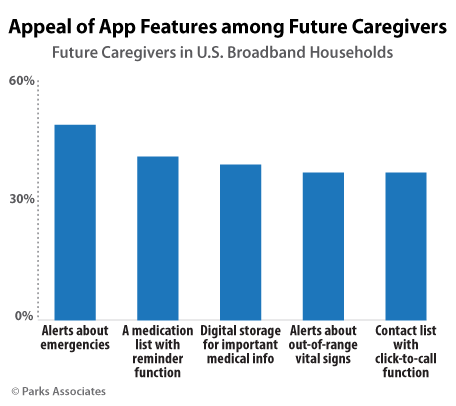 Parks Associates notes that over 115 million Americans will need caregiving assistance by 2020, and though demand for apps and tools to assist with caregiving tasks is increasing, the demand is currently unmet. According to Harry Wang, the industry needs to prioritize education and outreach for caregivers and patients and examine ways for the wellness and well-being markets to connect with and inform insurers and medical providers and professionals.
This will be a key focus during the Connected Health Summit, where sessions include "Engaging Caregivers for Coordinated Care" on August 31 and "Connected Health Partnerships: Strategies to Manage Chronic Conditions" on September 1. Registration for the event is still available, so reserve your seat today!
Next: Using a patient's existing mobile device is most effective health engagement strategy: Insights from ARM
Previous: From population health to personalized health by 2018: Insights from Omron Healthcare

Comments
Be the first to leave a comment.
Post a Comment