Connected Health Markets and COVID-19 - Tytocare Insights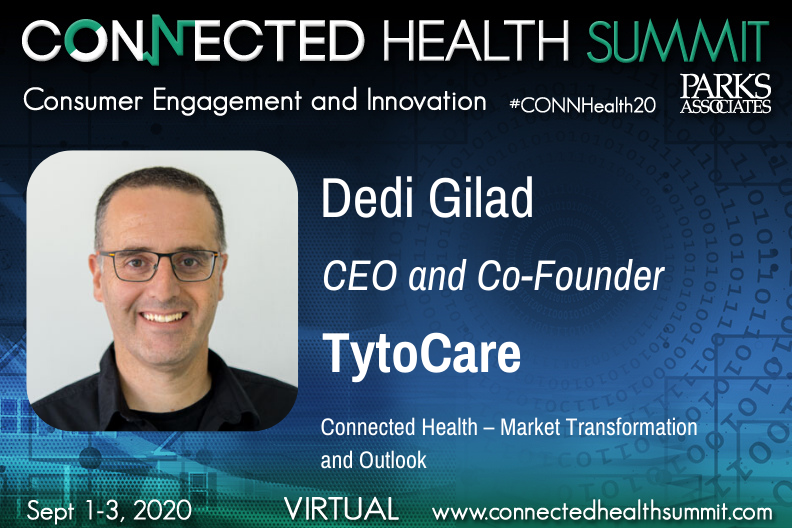 Parks Associates will host its seventh annual Connected Health Summit virtually on September 1-3. Ahead of the conference, one of the speakers, Dedi Gilad, CEO and Co-founder of Tytocare, shared his insights on how COVID-19 has impacted the connected health markets:
1. How has COVID-19 impacted the connected health markets?
The pandemic has forever changed the face of healthcare and has further pushed telehealth to center stage. Prior to COVID-19, telehealth awareness was extremely low and the industry standard for utilization was only 11% in 2019. Government regulations were blocking the growth and implementation of telehealth programs in the healthcare industry. Because of this, health organizations were hesitant to adopt telehealth programs and consumers were largely unaware of many of the benefits of remote care. With the lifting of telehealth regulations over the past six months, market utilization is surging and growing awareness has helped consumers to quickly embrace telehealth solutions. With government support in place, telehealth will become increasingly accessible, drawing more demand in the marketplace.
2. Will shifts in consumer behaviors related to fitness, wellness, chronic care management, and care for senior populations outlast the COVID-19 crisis? How can solution providers keep consumers engaged over the long-term?
We are entering a new era of telehealth. The market is currently experiencing a peak in demand for remote care and has pushed the industry ahead at least two years in terms of awareness. There's no reversing the dramatic improvements COVID-19 has created in primary and chronic care and now that consumers have experienced a different mode of operation, health organizations can no longer disregard the shift – and they don't want to. They are seeing the benefits: reduced costs, reduced loads on facilities, better monitoring for chronic care, and preparation for potential future pandemics, among many others. Telehealth is now a necessity. In order to keep consumers engaged, it's important to continue innovating, evolving and reimagining health and wellness from the comfort of home.

Next: Remote Connected Healthcare is Mission Critical
Previous: Independent Living Solutions and COVID-19 - Insights from Care Planning Institute

Comments
Be the first to leave a comment.
Post a Comment