Connected Health is a Top Focus for Start-ups
The Internet of Things opens many new opportunities for the connected consumer. Startups are targeting every aspect of the home, the car, and the body, with applications focused on safety, security, comfort, convenience, health, and wellbeing.
Each year at Parks Associates' CONNECTIONS™ Conference, venture capitalists speak on a session about the future direction of IoT investing. At the 2017 event, session attendees were asked their opinions on where start-up activity is most focused, with connected health technology coming out on top: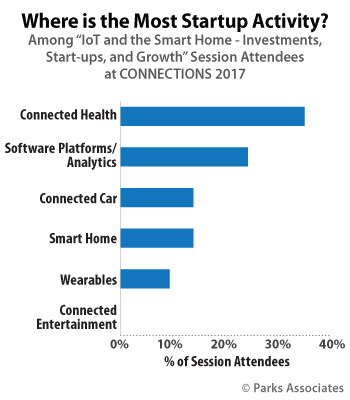 It's no surprise that attendees—which included executives and stakeholders from the entire IoT spectrum—consider this a hot area. Startup Health, a connected health incubator, reported over $8 billion in venture funding in almost 600 startups in 2016, up from $5.8 billion in 2015. Parks Associates research shows adoption is also growing rapidly:
The adoption of connected healthcare devices has increased 40% since 2Q 2014.
14% of U.S. broadband households report being "very interested" in remote monitoring solutions.
Almost 9% of U.S. broadband households are using technology to track their sleep.
12% of U.S. broadband households own a digital pedometer or fitness tracker with Wi-Fi or Bluetooth connectivity.
Insurers and U.S. consumers spend more than $50 billion per year on home health services.

Parks Associates will continue the digital health discussions started at CONNECTIONS™ during the fourth-annual Connected Health Summit, August 29-31 in San Diego. Keynote speakers include:
Saquib Rahim, MD, MBA, Chief Medical Officer, Aetna Digital
Vidya Raman-Tangella, Senior Vice President, and Head, UHC Innovation Center of Excellence, UnitedHealth Group
Dale Rayman, Senior Vice President, Actuarial Consulting & Business Development,Sharecare, Inc.
Chanin Wendling, AVP, Informatics, Geisinger Health System

For more information about the event, visit www.connectedhealth.com.
Click here for more information on Parks Associates' extensive research on the digital health market.
Further Reading:
Next: WeightWatchers is on a Comeback
Previous: Early Registration ends June 16 for Connected Health Summit: Engaging Consumers

Comments
Be the first to leave a comment.
Post a Comment