Computer Security Among Most Sought-After SMB Cloud Services
by Kaitlin Hawkins | Apr. 9, 2014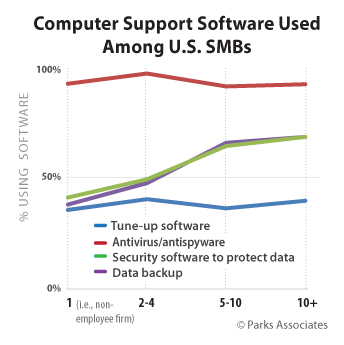 A recent SMB Tech Support Services report by Parks Associates shows that small businesses are looking to cloud services for data storage, security, and backup. Antivirus and antispyware programs are among the most used programs, and security and backup services are used more often in SMBs with 10 or more employees. Companies with 20 or more employees tend to be the most optimally sized for cloud applications and services, the report finds.
These data points are significant when you consider that in approximately 7% of U.S. broadband homes, at least one person telecommutes for work on a daily basis. Twelve percent of U.S. homes has a person that telecommutes at least once a month. To access their work, the report demonstrates that more and more employees are turning to their mobile devices: 25% of U.S. small businesses use smartphones and 19% use tablets to access business applications, providing employees a seamless way to access their work from home or on the go.
For more information on the research in this report, click here or contact us by email.
Next: Facebook Money Services? The Social Network's Massive User Base Gives Facebook an Advantage in Payments
Previous: Consumers Want More Mobile Data, But Simply Don't Want to Pay

Comments
Be the first to leave a comment.
Post a Comment