Cloud Services Provide New Opportunities for CE Makers
by Kaitlin Hawkins | Oct. 8, 2014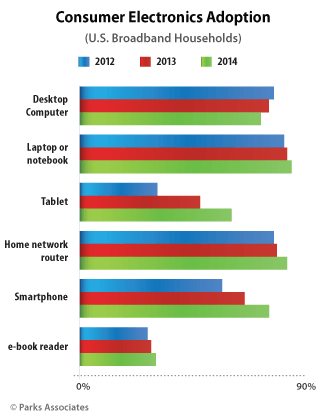 Parks Associates research shows that online video ranks highest among younger consumers as the most important video source. Increasingly, connected devices such as smartphones, tablets, and laptops are becoming secondary screens for watching, discovering, and sharing video content. However, as CE devices become a preferred tool to manage and share videos, music, and photos, incorporating these functionalities in CE devices also introduces a whole new layer of complexity.
Recently, Parks Associates partnered with PacketVideo to discuss cloud services for the growing video market in a complimentary industry webcast: "Navigating Cloud Solutions: CE and the Future of Video."
During this event, industry experts discussed consumer habits, advantages, and challenges in cloud-based features and explored the new opportunities for device makers. Several key pieces of data were revealed:
Total number of OTT subscriptions in U.S. broadband households
OTT subscriptions broken down by age and type of service (Hulu Plus, Netflix, or Amazon Prime)
Connected CE ownership figures from 2009-2013
How often consumers consumer user-generated video per week, and the most popular sites/apps for watching

Speakers on the webcast included Naveen Chhangani, Worldwide Director Product Marketing/Management at NETGEAR, and John Driver, Chief Marketing Officer at PacketVideo. The discussion was led by Parks Associates analyst Glenn Hower.
Download the webcast recording and slide deck by clicking here.
Further Reading:
Next: Easy Access to Content Makes Selling Pay-TV in Europe Difficult
Previous: Game consoles beat out smart TVs, streaming media players as most used connected CE devices

Comments
Be the first to leave a comment.
Post a Comment