Cloud-based Connectivity and Connected Cars
by Brad Russell | Jun. 16, 2016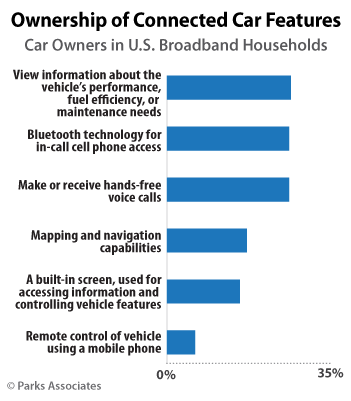 Millions of cars gain connectivity annually through embedded cellular modules, smartphone tethering platforms, and aftermarket OBD-II dongles. Vehicle performance and driver behavioral data that was once untracked, trapped within the vehicle, and inaccessible to consumers is now collected, stored in the cloud, and reportable to consumers in easy-to-digest formats.
Cloud-based connectivity is shifting the power relationship between vehicle owners and the rest of the auto ecosystem on several fronts:
Vehicle maintenance: Car ownership and maintenance is expensive. Vehicle owners are largely reliant on mechanics to identify issues, interpret technical diagnostic codes, recommend repairs, and fairly price work. With access to the vehicle's performance data, vehicle owners can track their car's health, keep up with preventative maintenance, better understand diagnostic codes, and shop around for the best repair deals.
Usage-based insurance: The same connectivity platforms collect driver behavioral data that insurers leverage to provide their policy holders with usage-based (or pay-as-you-drive) premiums. This model alone is incredibly empowering to consumers—it allows individuals to pay based on their personalized driving habits (driver score), rather than the risk profile of their demographic group. Most UBI programs are currently administered through each insurer separately, but the industry is moving towards a model in which drivers can shop around for insurance using a third-party-assigned driver score, similar to a credit score.
In-vehicle infotainment experience: It's no secret that the in-vehicle infotainment user experience trails the consumer electronics industry significantly. The sheer number of drivers who make phone calls, text, read emails, and access music and apps on their smartphones while driving testifies to this experience gap. According to Parks Associates, 45% of car owners in U.S. broadband households that own a smartphone use the smartphone directly to access maps and navigation while driving, compared with only 12% who use the built-in vehicle capabilities, and 11% who link their smartphone to their car to access the same features. Connected vehicle platforms are closing this gap and enabling consumers to access their favorite infotainment apps in the vehicle.

While the cloud is an essential element of most connected car applications and services, its value is limited in self-driving vehicles. Driver safety is paramount for self-driving cars. The success of self-driving vehicles is dependent upon users being confident enough to put their wellbeing in the hands of their vehicles.
Cloud latency issues pose a safety concern. When driving, especially at high speeds, the driver can need to make crucial split-second decisions that could have life-saving implications. There is no room for any hesitation or latency. Because latency issues are inherent to the cloud, much of the processing for self-driving cars must be done locally.
There are also security concerns with using the cloud for self-driving vehicles. Without end-to-end security, it is possible for hackers to take control of a vehicle, allowing them to access everything from payment and credit card information to control of the vehicle itself. Cloud-based systems provide more entry points for a hacker to compromise the car's systems.
As the connected car becomes more prevalent, more partnerships will create new cloud services to offer users new and differentiated driving experiences, such as voice control for applications, smart home control from the car, and location-based services.
For more information on the imopact of cloud connectivity across the connected consumer market, see my industry report Cloud Platforms for the Internet of Things.
Further Reading:
Next: How Cloud Connectivity Impacts Healthcare: Managing Chronic Diseases
Previous: Consolidation in the TV Industry

Comments
Be the first to leave a comment.
Post a Comment