AT&T Cuts Losses With WarnerMedia Sale To Discovery
by Liam Gaughan | May. 17, 2021
AT&T's efforts to expand beyond its telecommunication arm to become an entertainment media conglomerate has mostly been a failing prospect. AT&T hoped to enter the pay-TV market with the purchase of DIRECTV in 2015 but was offset by the rise of streaming media. AT&T attempted to cut losses and drop its traditional pay-TV offerings when it sold a 30% stake of the DIRECTV, AT&T TV, and U-Verse businesses to private equity firm TPG in February.
AT&T now looks to further reduce debt by turning around another recent investment. AT&T's WarnerMedia will be spun off and combined with Discovery Inc. in a new standalone media company. AT&T purchased Time Warner in 2018 to form WarnerMedia, but the telecommunications company was never sure how to handle its entertainment properties. Several short sighted decisions were made including HBO Max's mismanaged launch, as the new streaming service lacked availability on some leading devices and didn't well inform existing HBO subscribers of the update.
The sale to Discovery gives AT&T $43 billion to use towards paying down debt. The new publicly traded merged company benefits from two flagship streaming services with complementary content. The mostly scripted general entertainment programming under WarnerMedia's HBO Max and Discovery's booming Discovery+ service for unscripted content that is lifestyle-focused could be a lucrative bundle similar to Disney's success bundling Disney+, Hulu, and ESPN+.
Data from Parks Associates indicates that 22% of broadband households subscribe to HBO Max and 12% subscribe to Discovery+ in Q1 2021. Both services grew rapidly in their first year and outpace recently launched rivals including Apple TV+, Paramount+, and Peacock.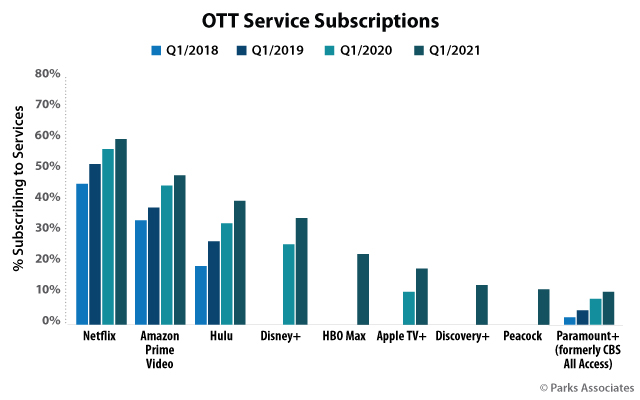 However, primarily staking the future of the new venture on two OTT services active for less than a year is a risky prospect. Both WarnerMedia and Discovery, at their core, are traditional media companies and relatively new to the age of streaming, where rivals like Netflix and Amazon began their OTT offerings many years back within digital-first organizations.
Another wildcard within the deal is the Warner Brothers film studio. WarnerMedia's decision to simultaneously release Warner Brothers' 2021 films in theaters and on HBO Max took many Hollywood players by surprise and drew sharp criticism from talent who weren't informed ahead of the announcement. WarnerMedia's current strategy presents a challenging situation for Discovery, which has never run a major film studio. WarnerMedia's commitments with theater chains to exclusively run blockbuster titles in a shortened 45-day window while also boosting HBO Max subscriptions presents many challenges to a new company.
As the combined video content asset prepares for the official merger, we expect to learn more about how the OTT assets and other media properties under the combined umbrella will be integrated and who will make up the leadership board beyond current Discovery CEO David Zaslav. Ultimately, corporate consolidation will dominate the future of OTT as service providers challenge the big three for viewers' attention with diversified service packages.
For a deeper look at the OTT video space, please check out the Parks Associates' OTT Video Market Tracker.
For more information about Parks Associates research, visit http://www.parksassociates.com or call 972-490-1113.
Next: Amazon Adds Key IP for Prime Video with $8.45 Billion Deal with MGM
Previous: Amazon is not Slowing Down in the Smart Home Space

Comments
Be the first to leave a comment.
Post a Comment