Apple TV+ Extends Promotion to Retain Subscribers
by Liam Gaughan | Feb. 5, 2021
Apple TV+ has become one of the leading SVODs since it launched in November 2019, building off of Apple's brand recognition and device partnerships. At launch, Apple TV+ courted subscribers with a promotional deal offered. Users that purchased a new Apple device were given a year of free access to the service, and that promotion was first extended to February 2021.
In an effort to retain the core subscribers who initially signed up for the service, Apple has extended the promotion a second time to July 2021. Paying subscribers to the service, those outside of the free promotion, will also receive $4.99 a month in App Store credit to cover the monthly subscription fee during this period. Clearly, Apple is very concerned about retaining its core subscriber base and reducing potentially massive churn by extending the promotional period and offering paying subscribers credit.
Unlike competitors such as Disney+ and HBO Max that launched with large content libraries and popular media brands, Apple TV+ offers only a small library of less than 100 original movies, series, and documentaries. The curated content includes critically acclaimed titles, with the service scoring Golden Globe nominations this year for On the Rocks, Wolfwalkers, and Ted Lasso. Apple is hoping that these original titles will generate continued interest for subscribers when the promotion lapses. Apple is also hoping that its reported interest in acquiring key licensed content will further bolster the service and increase its subscriber base.
Data from Parks Associates indicates that 25% of OTT subscribers cite an OTT service's content offering as the primary reason for subscribing, with 23% indicating their primary reason was a free trial. While Apple TV+'s trial period has undeniably helped generate interest in the platform, it is not a sustainable revenue-generating business model for the service's future.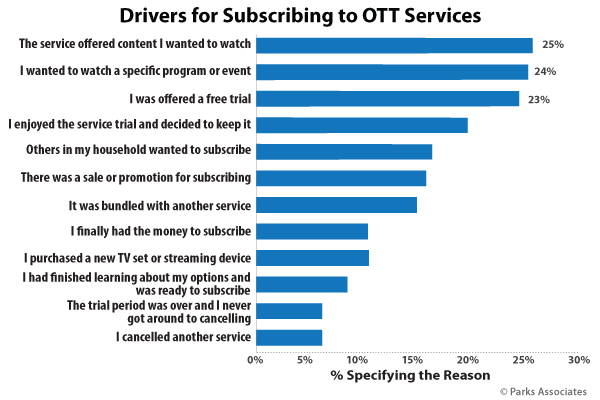 The widening of the promotional period gives Apple TV+ the perfect opportunity to continue to expose its subscriber base to new content. Between February and July, the service is debuting the Tom Holland crime thriller Cherry, the music documentary Billie Eilish: The World's a Little Blurry, family content featuring the Peanuts characters, the acquisition of the Sundance-winning independent film CODA, and new specials featuring Oprah Winfrey.
Apple also aims to use this period to give users a reason to stay subscribed outside of the availability of new content. A relaunched web browser interface introduced genre categories and a "new releases" section aims to improve the user experience. The service also continues to add new supported devices including Chromecast and gaming consoles Xbox One, Xbox Series X, Xbox Series S, PS4, and PS5. These developments suggest that Apple aims to continue to expand its potential reach.
An interface with more advanced capabilities and developments would help Apple TV+ retain users that hop in and out for only select titles. Data from Parks Associates indicates that 58% of Apple TV+ subscribers are service "hoppers" that have resubscribed multiple times, the highest percentage of all leading OTT services. Apple will surely want to keep these subscribers engaged outside of that brief window.
Unlike emerging services that have struggled with name recognition and building strong initial viewership, Apple TV+'s struggle moving forward will be to offer compelling ways to engage with and keep the service outside of free access. The impact of this promotional extension will be significant if it helps Apple TV+ establish itself as a permanent fixture near the top of the subscription-based OTT service hierarchy.
For a deeper look at the OTT video space, please check out the Parks Associates' OTT Video Market Tracker.
For more information about Parks Associates research, visit http://www.parksassociates.com or call 972-490-1113.
Next: AT&T Aims To Shutter Pay-TV With DirecTV Deal
Previous: Sony Aims To Dominate 4K With New Streamer

Comments
Be the first to leave a comment.
Post a Comment