Amazon gives Alexa devices price cut before HomePod gets on the shelves
by Tu Skuse | Jul. 10, 2017
Today is Amazon's Prime Day (7/11). In the past week, noteworthy discounts on Amazon's Alexa-powered devices has been top tech news. As of Q2/2017, Amazon's smart speakers with the Alexa personal assistant have led smart speaker market with highest consumer adoptions (according to data from Parks Associates). During its WWDC17 keynote, Apple announced its participation in the playground with Apple HomePod, which will be ready to ship in December 2017, suggesting a coming change in market dynamic. Positioned as the smart speaker with high-end sound quality, HomePod promises a more complete experience to smart speakers where the device is not just a "home for personal assistant and also a speaker" but a sound system that is smart.
Apple has the right strategy with tackling sound quality: 72% of smart speaker users use their device regularly to stream music and audio, according to Parks Associates' recent data. On the other hand, while Apple focuses on HomePod's high-end speaker features, including multi-room audio synchronization, streaming content for HomePod is currently Apple Music-exclusive. Unless you have Apple Music or audio files from streaming devices, chances are you won't be able to make use of HomePod's high-end sound quality. This can be limiting for music lovers who like to stream from multiple sources.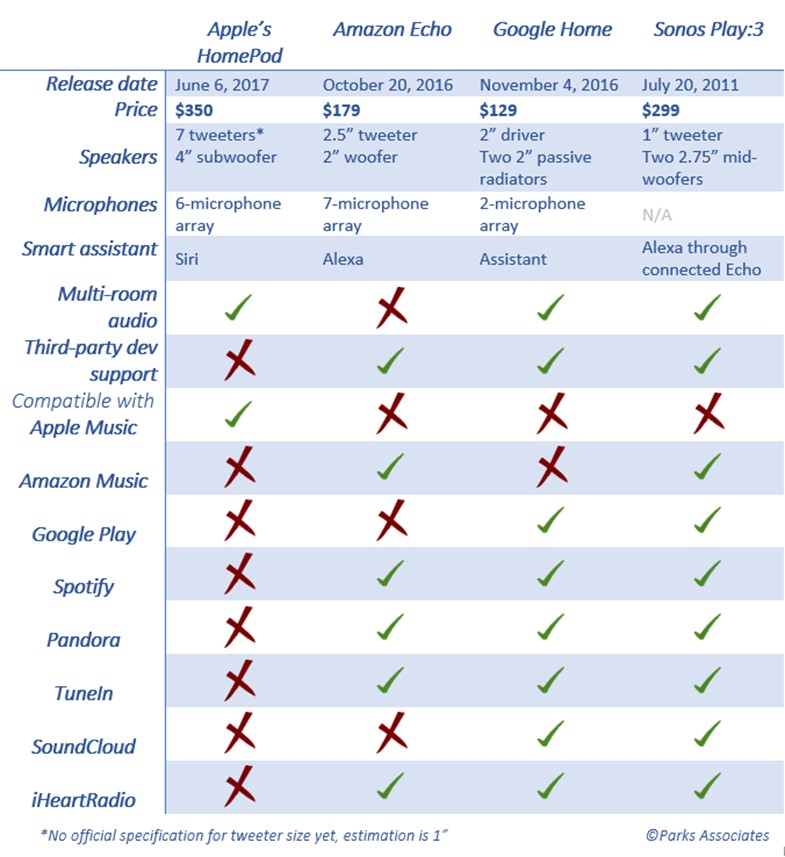 For a significantly higher price than competitors ($350), the question is, is HomePod worth it? Before this question can be answered, Amazon is lowering Alexa devices leading up to its third annual Prime Day. Amazon has been offering the smart speaker "gateway drug" to consumers with incredibly affordable Echo Dot ($50, now on sale for $35). Now with sales price on both Echo and Echo (on sale for $90) Amazon may claim a large population of potential adopters before HomePod even makes an appearance in stores.
Further Reading:
Next: Amazon Prime Day – A Day for the Echo
Previous: Infographic: Growth of Voice Technologies in IoT

Comments
Be the first to leave a comment.
Post a Comment