Alphabet, ResMed Aim to Raise Awareness of Sleep Disorders - Can CE Devices be Part of the Solution?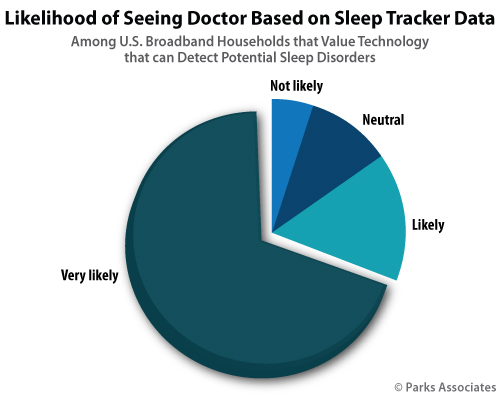 This week, Google parent company Alphabet's life sciences outfit Verily announced a new joint venture with connected sleep diagnostics and treatment leader ResMed. The joint venture will develop software solutions to better identify sleep apnea and manage treatment. Awareness of sleep apnea is a substantial issue, with ResMed estimating 80% of U.S. consumers with the condition are undiagnosed and untreated.
A new study conducted by Parks Associates finds that 42% of consumers in U.S. broadband households are concerned their health will worsen due to poor sleep quality, but the majority of consumers have never spoken to a doctor about sleep. This points to a market opportunity for solutions that can help consumers understand their sleep issues and bridge the gap with the medical community.
A range of companies currently offer sleep technology solutions that aim to be part of the solution. Companies targeting this space include mattress manufacturers, retailers, medical device manufacturers, consumer electronics manufacturers, residential security providers, and smart home device manufacturers. Sleep tech form factors are diverse and include smart mattresses, sensor strips that slip underneath sheets, smart pillows, smart sensors that clip on pillows, bedside monitors that detect sleep, and a range of headsets.
These sleep solutions have the potential to increase detection of sleep disorders by expanding access to sleep data through relatively cost-efficient (and largely consumer-paid) means. Fifty-eight percent of consumers rated as valuable a sensor, device, or app that can detect and track potential sleep apnea/respiratory issues, potential restless leg syndrome, or potential insomnia issues. Among them, 85% said they would be likely to see a doctor based on this information.
While most manufacturers avoid making medical claims about their products, so as to avoid regulation, solution providers that develop medical-grade solutions will open a much larger source of revenue via healthcare reimbursement. Alternatively, there are opportunities for sleep tech companies to partner with sleep specialists, sleep clinics, and medical device manufacturers, who will benefit as consumer-grade devices raise awareness of potential sleep disorders and drive in-office visits.
Parks Associates' study Sleep & IoT: Behaviors, Awareness, and Opportunities presents the results of a survey of 2,000 U.S. broadband households conducted in Q2 2018. This study provides insights on sleep attitudes, routines, and environment and assesses consumer awareness and use of sleep tracking technologies. It evaluates interest in solutions that track and aid in improving sleep quality, assesses opportunities for integration with connected devices throughout the home, such as smart thermostats and smart lighting, for sleep-related use cases, and recommends how to engage consumers further in the adoption of sleep tech products.
Sleep technology and innovations will be key discussion during the 5th-annual Connected Health Summit in San Diego this year. Keynote speakers include Alarm.com, IBM Watson Health, Providence St. Joseph Health, Qualcomm Life, and Uber. Visit www.connectedhealthsummit.com for more information.
Further Reading:
Next: Insights into Independent Living Solutions with Tyto Care
Previous: The Ambient Assisted Living Market is Improving with Age

Comments
Be the first to leave a comment.
Post a Comment