Almost 60% of US households subscribe to an OTT service

Today, 59% of U.S. broadband households subscribe to an OTT video service. Two-thirds of broadband households own a connected entertainment device, and more than one-quarter own a streaming media player.
2015 saw key trends in the connected entertainment world, trends that will continue to affect the industry in 2016. As the new year progresses, players in the global market will face new opportunities and challenges.
Parks Associates and Lynx Technology recently partnered together to co-host a complimentary industry webcast that discussed the 10 trends that will impact the connected entertainment world and connected homes in 2016.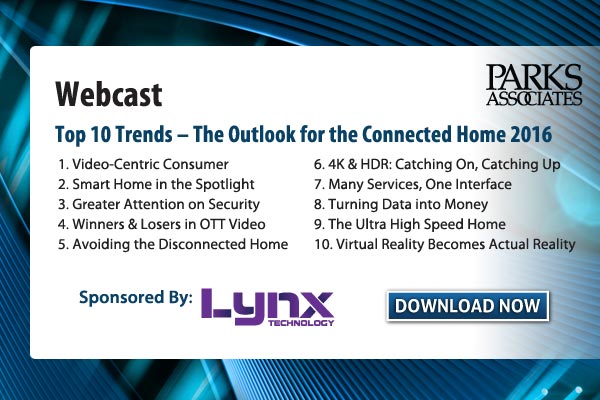 Additional research topics from the webcast included:
Content delivery service platforms and infrastructure
Multi-device connectivity within the home and on the go
New and emerging video/entertainment products and services
Premium content production and licensing
Emerging entertainment revenues and business models

Speakers on the webcast included John Driver, CEO of Lynx Technology as well as Parks Associates research director Brett Sappington and analyst Glenn Hower.
Download the webcast recording and slide deck by clicking here.
Next: AT&T Announces Unlimited Data Plan: Parks Associates Analysts Respond
Previous: Telefonica Eyes AT&T Operators in Latin America: Parks Associates Analysts Respond

Comments
Be the first to leave a comment.
Post a Comment