Alexa, Read Me a Book: The Audiobook and Smart Speaker Dilemma
by Lindsay Gafford | Apr. 29, 2019
On April 23, people across the globe acknowledged World Book Day by sharing photos and sentiments about their favorite books across various social media platforms. Perhaps what they should have done is share screenshots from their favorite audiobook or e-reader apps—the increasingly popular ways people consume what was traditionally print media.
The prevalence of audiobooks in particular continues to rise—the Audio Publishers Association (APA) reported double digit growth in audiobook sales in both 2016 and 2017 with over $2.5 billion in 2017 sales, and Forbes named audiobooks the "Publishing Industry's 2018 Trend."
This significant growth in the popularity of digital media (including audiobooks) is unsurprising. Parks Associates data shows that as of Q4 2018, 75% of consumers in US broadband households own a smartphone and 64% own a tablet, with a growing tendency to use mobile devices for entertainment and media purposes. Apps like Scribd and Amazon's Audible are well-established in catering to the (audio)book-loving, tech-savvy crowd, and even more audiobook options are available directly through the Google Play and Apple iTunes stores, among others.
Perhaps the one area where audiobooks and the associated platforms struggle is being able to fully integrate with consumers' smart technology ecosystems—namely, smart speakers. Research by Parks Associates shows that smart speakers experienced a 29% growth from 2017 to 2019, with 36% of US broadband households now owning a smart speaker.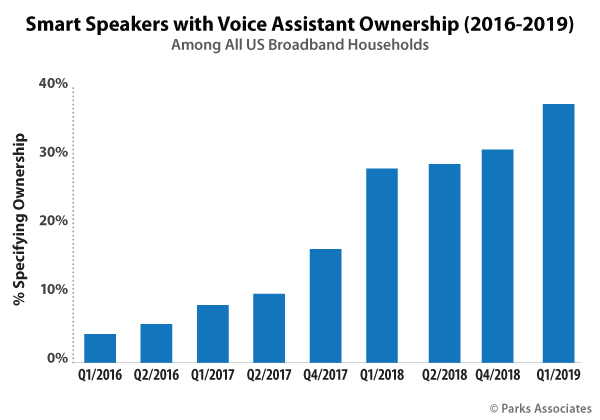 Despite the significant growth in purchasing/usage of smart speakers, audiobook platforms falter in providing users an easy transition between listening on their mobile device and casting to their smart speaker. While there is some interoperability between audiobook platforms and smart speakers—for example, Amazon's Audible works with Amazon's Echo platform, but not beyond—the lack of casting options on audiobook platforms is a pain point that has inspired entire subReddit threads.
As smart speakers progressively move toward being one of the key platform options of a home's smart technology ecosystem and consumption of digital media continues increase, creators of both connected entertainment and smart home manufacturers have an opportunity to create a seamless experience for consumers—even the bookworms.
Suggested reading:
Next: Data Privacy is Key Issue Highlighted by F-Secure at CONNECTIONS
Previous: Impact of DIY on Professional Monitoring for Home Security

Comments
Be the first to leave a comment.
Post a Comment