Thomas Rockmann, VP Connected Home, Deutsche Telekom AG, Adresses Privacy, Security, and Smart Home Product Adoption
Thomas Rockmann, VP of Connected Home, Deutsche Telekom AG, will be speaking at Parks Associates' upcoming CONNECTIONS Summit: Engaging Consumers: IoT and the Smart Home at CES, January 9, in Las Vegas. He kindly provided insights, to Parks Associates' analyst team, regarding the rise in digital voice assistants in the home, and consumers' fears regarding privacy, security and adoption of smart devices in the home.
Thomas will be participating on the Smart Home Platforms: Unlocking Consumer Value session, at Parks Associates' CONNECTIONS Summit. The session will be held Tuesday, January 9, at 9 AM, and will also feature the following participants:
Nina Bhatia, Managing Director, Centrica Connected Home (Hive)
Bernd Grohmann, Executive Vice President, eQ-3 AG
Martin Heckmann, Director, Emerging Business at Chamberlain Group Inc, Chamberlain
Marcus Scheiber, CEO, ROC-Connect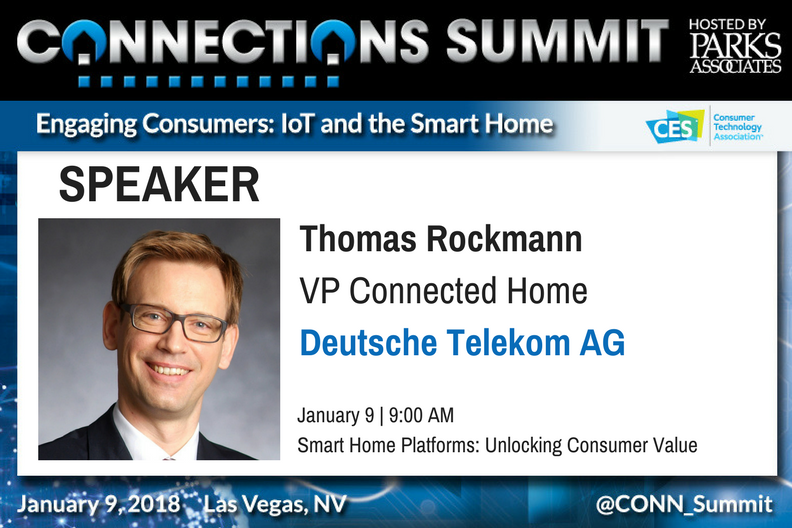 Q. What role has voice played in the rise of Amazon, Google, and Apple in smart home ecosystem dominance?
A. Analysts predict that one quarter of households will use AI-powered digital voice assistants as the primary interface for connected home services by 2019.
This predicted demand is being ardently pursued by the consumer technology industry en masse, and already specialism among major players is apparent, with Amazon aiming to become omnipresent in everyday lives. Google has leveraged its core search and information services in the hunt for a conversational AI assistant across a range of user journeys. Meanwhile Apple's Siri has been exploring a premium hardware strategy, prioritizing superior audio performance above wider capabilities.
However, other players are also entering the voice assistant space. At Deutsche Telekom, we recently announced plans to speed up the transition to AI during 2018 with the launch of an own-brand assistant and AI-enabled consumer speaker product to control smart home devices and DT's services such as EntertainTV.
Q. What do consumers fear most when adopting smart home products and services?

A. The main barriers for consumers when adopting smart home technology are understanding the benefits of smart devices and associated value-added services, device cost, and perceived complexity of set up and use.
The main fears consumers have when adopting smart home products and service can be overcome by ensuring that products are easy-to-use, offer clear benefits, and by creating an ecosystem in the home where additional devices are easy to add.
Q. How is your company addressing privacy and security in your products or service?

A. Security concerns are also beginning to mount, and this will increasingly be a challenge that smart home stakeholders will need to combat. Deutsche Telekom's smart home offering meets rigorous industry standards, removing one more challenge for both partners and customers. When developing any solution in the era of the Internet of Things (IoT), data privacy and security should be a high priority.
For more information on CONNECTIONS Summit at CES, visit: www.connectionssummit.com.
Next: Increasing Consumer Awareness with Tony Mauro, CTO, Plasmatic Technologies, Inc.
Previous: Centrica Connected Home's Hive Brand: Easing Consumers Fear of Adopting Connected Home Products and Services

Comments
Be the first to leave a comment.
Post a Comment