Adapting to a Global Health Crisis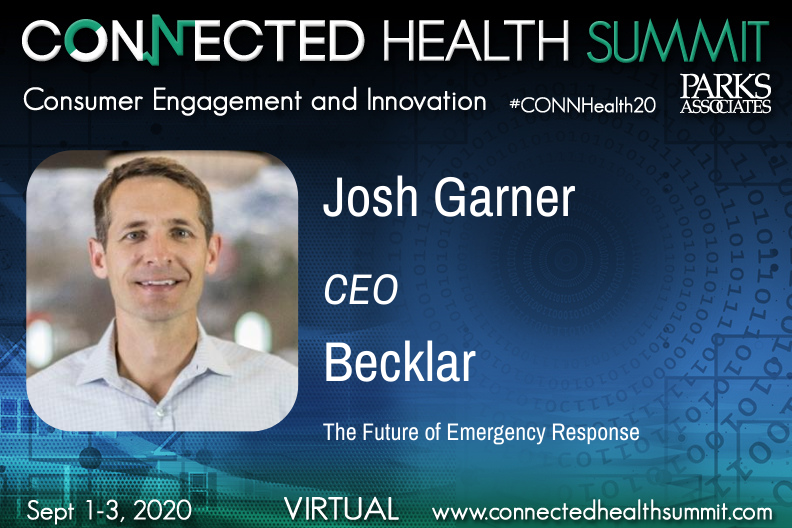 Josh Garner, CEO of Becklar and a speaker at Parks Associates' upcoming Connected Health Summit, shared his thoughts with us on how healthcare is adapting to a global health crisis ahead of the upcoming conference:
How have consumer attitudes towards connected health solutions shifted in the last year?
Even prior to COVID, consumers were changing attitudes toward connected health services as they recognized the value of convenience creating healthcare scenarios. With COVID-19, consumer demand has increased for connected health solutions such as mobile medical alerts as more seniors are home alone with reduced access to home health workers and family members.
Will shifts in consumer behaviors related to fitness, wellness, chronic care management, and care for senior populations outlast the COVID-19 crisis? How can solution providers keep consumers engaged over the long-term?
Consumer behaviors will outlast the crisis. The pandemic has forced individuals, families and communities into situations in which they have reevaluated the fundamental approach to well-being. The long term nature of the outbreak has also provided the longevity required to create new long term habits. For this reason the changes will outlast the crisis. Solution Providers will keep consumers engaged as they continue to develop products and services that improve the lives and comfort levels, and prove that the solutions that consumers adopted during this pandemic are still valid and useful after the pandemic abates.
COVID-19 exposed the vulnerability of our senior population. How can independent living solutions best meet the needs of seniors and caregivers?
The value of independent living has been validated by the current crisis. Seniors that are living independently are the safest, but in order for them to enjoy independence they need products and services that allow them to continue to enjoy socialization and confidence that they will have help when needed. Solutions need to be user-friendly for seniors and keep caregivers informed in order to succeed.
The healthcare economy has been severely disrupted in this crisis, but regulations and reimbursement for connected health solutions are trending positive - how will these competing forces impact the growth of the connected health market?
"This time, like all times, is a very good time – if we but know what to do with it" Ralph Waldo Emerson's words ring true in this crisis. The wonders of our high tech healthcare are truly amazing, but increasing costs have been a challenge. This time of crisis will necessitate the creativity and innovation that will provide products and services that will improve lives in an economical way. Companies that focus on solutions that help individuals to remain connected with low time and monetary costs will be successful.
Next: Consumer Attitudes Towards Connected Health Solutions
Previous: Healthcare is not Pandemic-Proof - How Will it Adjust in the Future?

Comments
Be the first to leave a comment.
Post a Comment