Acer Jumps Into Tablet Fray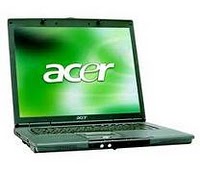 As the rise of tablets threatens its low-cost laptop business, computer maker Acer Inc. unveiled plans to begin selling tablets that run either Microsoft Corp. and Google Inc. software.
The Taiwan company said it will release three touchscreen tablets next year. The first, based on Microsoft's Windows platform, will have a 10.1 inch screen and be released in February. The company will also release two tablets using Google's Android platform in April, one with a 7-inch screen and one with a 10.1-inch screen.
Acer is the latest personal-computer maker to join the tablet bandwagon after Apple Inc.'s iPad, released in April, attracted strong consumer demand. Samsung Electronics Co. has begun selling a Google-based tablet with a 7-inch screen. Other companies, including BlackBerry maker Research In Motion Ltd. and Hewlett-Packard Co., have announced plans to introduce tablets to compete with Apple's product.
For the complete article, please click here.
Next: Sony, Nikon, SanDisk plan faster Compact Flash cards
Previous: Things that I think will be interesting at CES

Comments
Be the first to leave a comment.
Post a Comment