A Seamless Smart Home Experience - F-Secure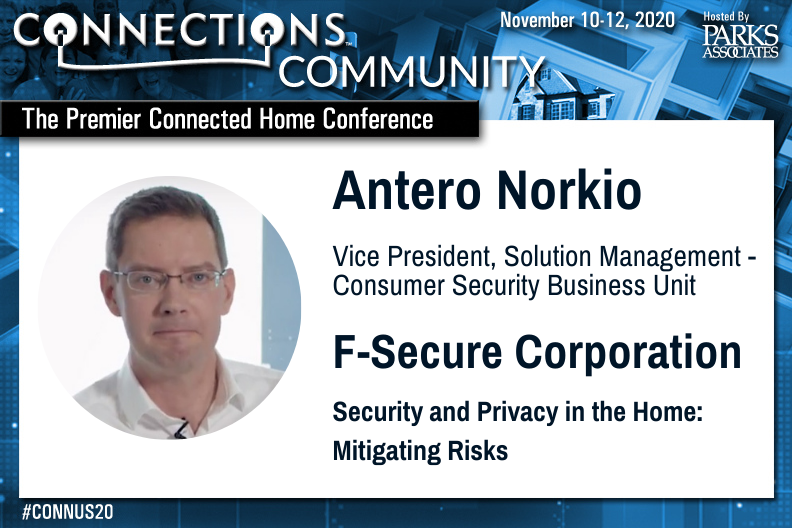 Parks Associates is hosting its 24th annual CONNECTIONS conference this year as part of CONNECTIONS Community, with virtual sessions on July 15, July 29, August 19, September 16, October 7, October 28, and November 10-12. The upcoming session on October 28, titled "Privacy and Security: Protecting the Consumer", will address how manufacturers, broadband service providers, and data security service providers are doubling their efforts to mitigate potential risks to consumers' personal data without the expectation that the consumer should or will do it themselves.
Antero Norkio, Vice President Solution Management - Consumer Security Business Unit at F-Secure, will be one of our panelists on October 28. Ahead of the session, he shared with us what it takes to create a seamless smart home experience:
What is necessary to build a seamless smart home experience that crosses brands, platforms, and ecosystems?
We really need to take a holistic view on the connected home security strategy. For consumers, it's very difficult to understand the difference of say security and privacy; they may think "aren't those the same thing?". Adding here the need to protect all types of smart devices and the need to be protected also outside the home for example using public WiFi, it's becoming a complex equation for consumers. So we really need to simplify the user experience so that you can feel protected wherever you are. Here, Service Providers are uniquely positioned as they provide connectivity to home and can combine such security proposition to their offering. And the really great thing is that many Service Providers are starting to embrace standards such as TR-369 User Services Platform and virtualization technologies to rapidly roll-out these whole home security solutions.
Register now for the CONNECTIONS Community conference.
Next: State of the Smart Home Market in a Year of Disruption
Previous: Connected Devices in the Smart Home - Nice Insights

Comments
Be the first to leave a comment.
Post a Comment