A reality-check on Uber's plans for flying cars
Uber announced plans to debut a flying car network, called Uber Elevate, in the Dallas-Fort Worth area and Dubai by 2020. Parks Associates is based in Dallas, and I can't believe our good luck at having been chosen to be on the forefront of this effort. Still, let's assess the reality.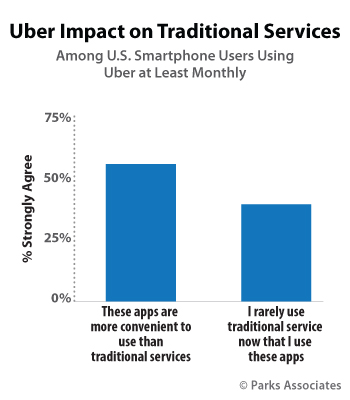 First, Uber's "flying car" is a misnomer. The initiative is designed to launch electric or hybrid aircrafts that take off and land vertically and are designed to fly short ranges. When not flying, these vehicles will not be driving down roads. The aircraft would compete with cars as a transportation choice, but are in no real way actually flying cars.
Still, the initiative is real and Uber has lined up partnerships with leading companies in aircraft innovation. Particularly interesting is a model of air transportation that reflects what Uber has done to on-road transportation. On-demand short-range air transport could be an extremely compelling offering for consumers that currently drive long commutes or take short regional flights regularly. From this perspective, Texas is a great market for this type of service, with many major cities, a large and growing population, plenty of traffic and long commutes, and a low-tax, low-regulation, innovation-friendly political culture. Plus, we're flashy.
One can think of more reasons why this will fail than reasons it will succeed, but the most glaring is regulation. Even under an extremely anti-regulatory Trump administration, a three-year timeline to launch a product for which regulation doesn't even yet exist stretches the bounds of reality.
Parks Associates' consumer data adds additional context to this announcement:
This type of service will sound to consumers even more far-fetched than self-driving vehicles, which are already on-road in limited deployments today. Just 12% of U.S. consumers intending to purchase a brand new car are "very interested" in a self-driving car.
Uber was founded in 2009, and while it makes headlines regularly, many average consumers are still not very familiar with the service. 33% of U.S. smartphone users are "very familiar" with ride-sharing apps and 19% of smartphone users report using a ride-sharing app. 75% of ride-sharing app users report using Uber most often.
Urban density is a big factor in ride sharing app usage. 34% of smartphone users living in an Urban area use Uber, compared with just 21% of those living in a suburban area and 7% of those living in a rural area. An Uber air transport service is similarly likely to target urban-metro areas that have the population density to ensure demand and the necessary infrastructure to support such a service.
37% of monthly Uber users report that they rarely use traditional services now that they use ride-sharing apps. Should an Uber air transport be successful, short-range airline routes would almost certainly impacted. It would not replace car-based travel in the United States, though it could relieve some road congestion.

Further Reading:
Next: Connected Car Innovations Leading to Safer Roads
Previous: Top 7 Takeaways from Samsung's Galaxy S8 Event

Comments
Be the first to leave a comment.
Post a Comment