A Comprehensive Ecosystem for Healthcare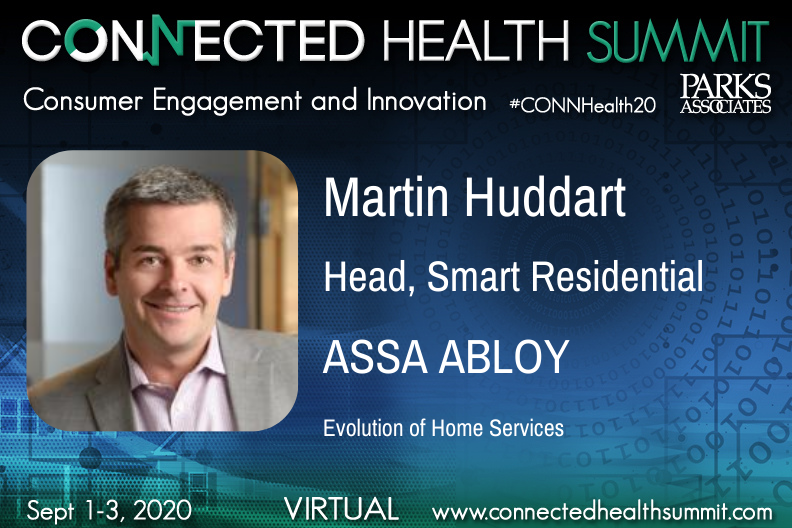 Martin Huddart, Head, Smart Residential of ASSA ABLOY, shared his thoughts with us on the evolution of home services after his recent participation in the Connected Health Summit.
Q: When you think about the evolution of home services to address a variety of health-related issues, what use cases do you see emerging?
A: Use Cases:
--Access control for visiting care workers to the home (via smart locks) as aging in place is a big trend. This solves multiple problems: having to answer the door if you have limited mobility and managing keys if you are the care worker. This has been shown to cost 6-8% in productivity in care workers which are in limited supply in many areas. It also avoids the security risk of hiding keys under the mat or showing that you have a key box on the outside of your house.
--Remote Care:
-Video chat with easy-to-use interfaces for the elderly.
-Permission to check in on the elderly (via video) to make sure they got to bed or get up in the morning.
-The potential to automate this through AI (Fridge didn't open, fall detection etc).
--Contactless Delivery to prevent face to face contact – either in home, in garage, or a box. This also solves 'porch pirate' related theft and repeat delivery attempts.
Q: Considering those use cases, how should we be thinking about the requisite ecosystem of devices, services, and data that needs to be included?
A: The ecosystem is very important. A comprehensive ecosystem can be used to provide the basic benefits (eg access control or the remote care) but also is an engine for managing the business (e.g. capture the time care workers spend in the house for billing and time and attendance).
Q: Each of you represents a unique position in that ecosystem. As I stated earlier, you've gleaned a lot of experience and expertise through your years of presence in the home. What do you think you have to contribute to the goal of enabling better health care in the home?
A: As the world's biggest access company, we aim to bring the hardware and ecosystem to solve delivery and home services problems and broadly integrate with other partners serving consumers with access needs.
Q: Do you foresee traditional providers of nursing and personal care services collaborating with smart technology providers, or not? How can smart home solutions improve outcomes and more efficient delivery of care? What needs to happen to further those kinds of partnerships?
A: Yes this is already happening. In Europe, we partner with home care organizations to manage access for home services to around 250,000 homes via smart locks, cameras and apps. We provide access, time and attendance data (make sure workers spend enough time at the home) and a remote care platform for the healthcare workers to check in remotely via video.

Next: Connected Health at Home: The Next Smart Home Market
Previous: Consumer Attitudes Towards Connected Health Solutions

Comments
Be the first to leave a comment.
Post a Comment