3DTV coming of age soon
by Pietro Macchiarella | Aug. 18, 2010
Jim O'Neill wrote a very nice overview of 3DTV on FierceIPTV.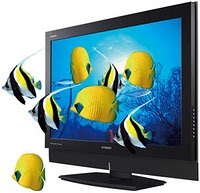 The concept of 3D is becoming more of a reality as 3D-ready consumer electronics become more affordable and the availability of content increases.
There are many obstacles on the way to success: low consumer engagement, difficulties in marketing 3DTV effectively, advertising issues, etc.
However, as I told Jim, "there is no doubt in my mind that 3D is here to stay, and it will be a standard feature in sets being sold."
Increasing consumer awareness, lower prices, and quality content will contribute to its success.
Next: Security beyond the PC: Intel buys McAfee
Previous: Consumption of PC video is increasing, but TV still main video sourc

Comments
Be the first to leave a comment.
Post a Comment