3D Gadgets Descend on Christmas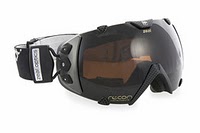 Step into any electrical store and you can't escape the way TV manufacturers have designated this to be the 3D Christmas. There are plenty of sets vying for attention, none of which are definitively the best; although, in this area, plasma screens currently seem to have the upper hand over LCDs.
More exciting are the other devices starting to overcome the obstacles inherent in 3D technology. With much of the content, for instance, originating in the cinema, a projector seems a natural way to view it. The LG CF3D shows 3D in a form that can be viewed using inexpensive, lightweight polarizing glasses.
Outside the realm of multidimensional offerings are a couple of other notable gadgets for the home. The audiophile will appreciate the Harman Kardon GLA-55 multimedia speakers, which are as loud as they look, while coffee lovers will envy the compact Miele CM5100 freestanding coffee machine, with its wide variety of easy-to-use programs. Meanwhile, the diamonds around the edge of the £5 million Stuart Hughes iPhone 4 could just solve the phone's infamous aerial problem.
For the complete article, please click here.

Next: Acer Jumps Into Tablet Fray
Previous: Apple Updates Its iOS Mobile Operating System.

Comments
Be the first to leave a comment.
Post a Comment