35% of smart watch owners are willing to share personal data for a health insurance discount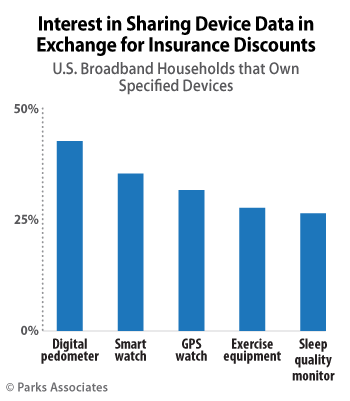 New connected health research from Parks Associates reveals some U.S. digital health device owners are willing to share the personal data generated by these devices in exchange for a health insurance discount. However, the willingness to share data varies based on the device used:
42% of digital pedometer owners are willing to share data for an insurance break
35% of smart watch owners are willing to share data for an insurance discount
26% of sleep-quality monitor owners are willing to share personal data for a health insurance discount

Parks Associates will examine new business models in the connected healthcare industry, including the unique challenges of creating incentives for consumer engagement, at the firm's second-annual Connected Health Summit, taking place September 9-10 in San Diego.
The firm welcomes and thanks the Event Sponsors who help make the conference possible throught their support:
---

Alarm.com is a leading technology provider of connected home services, powering millions of residential and commercial installations. Through its connected home platform, millions of people use Alarm.com to help protect and manage the things that matter most – their homes, families, and small businesses. Alarm.com connects a wide range of supported devices across the internet of things to provide an integrated connected home experience through an intelligent cloud-based services platform and easy to use mobile app. Alarm.com solutions are sold exclusively through a network of licensed and authorized Dealer Partners.
---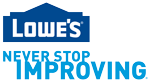 Lowe's has entered the Smart Home market with a broad range of innovative new connected products and services using their Iris platform. Iris allows consumers to monitor and control their home from their computer, tablet, or smart phone. The broad range of Iris products and services are designed to appeal to the average consumer with simple and affordable bundles that make homes safer, more energy efficient and convenient to manage.
---

Palo Alto based ROC-Connect provides and supports full end-to-end solutions for connected home players. Based on our state-of-the-art IOT-platform and application framework we rapidly create comprehensive and consistent smart home brands, with excellent user experiences, high technical standards, and operate them on reliable services. We help our clients to design and execute their business model, select and design their products and services, and support them in all phases of their market entry and operations.
Kevin Meagher, SVP Business Development at ROC-Connect, will participate on the panel discussion "Making Sense of Partnerships in the Connected Health Market" on Thursday, September 10 at 3:15pm.
---

Teladoc is the nation's largest telehealth provider—surpassing 298,000 consults in 2014 and projecting over 500,000 consultations in 2015—through a directly managed network of U.S.-based, board-certified physicians. Teladoc provides 24/7/365 access to affordable, quality medical care for adults/children experiencing non-emergency issues at a fraction of ER and urgent care costs. Consultations are available by phone, secure online video or mobile app immediately (less than 10 minute response time) or by scheduled appointment. Upon completion of consult, physician can electronically prescribe if medically necessary, share consult info with member's PCP and conduct follow up with patient by secure message center.
---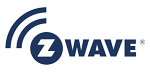 Z-Wave technology and is an open internationally recognized ITU standard (G.9959). It is the Leading wireless home control technology in the market today, with over 1200 certified interoperable products worldwide. Represented by the Z-Wave Alliance, and supported by more than 300 companies around the world, Alliance members lead the home controls market, providing leading edge products and systems that deliver increased comfort, convenience, energy conservation, safety and security and aging in place. The Z-Wave standard is a key enabler of smart living solutions for deployment in all channels from service providers to etail and retail, security companies, builders and installers, as well small business and commercial and hospitality. With over 35 million end devices in homes, Z-Wave is a key enabler of the Internet of Things.
Bill Scheffler, Director of NA Sales and Business Development at Sigma Designs/Z-Wave, will be speaking during the session "Empowering Patients and Care Providers: Smart Sensors and Technologies for Connected Care" at 1:30pm on September 10.
---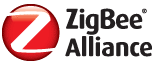 The ZigBee Alliance offers the open, global wireless standards that enable everyday objects to work together and help you control your world. ZigBee standards are the leading standards for monitoring and control used in consumer, commercial and industrial markets around the world. The Alliance is an open, non-profit ecosystem of more than 400 organizations developing and promoting standards defining the Internet of Things for use in homes and businesses.
Mark Walters, V.P. Strategic Development at ZigBee, will speak on the session "Empowering Patients and Care Providers: Smart Sensors and Technologies for Connected Care" on Thursday, September 10 at 1:30pm.
For more information on the speakers, sessions, or sponsors at the 2015 Connected Health Summit, visit www.connectedhealthsummit.com.
Next: Is Connected Health the Future of Healthcare?
Previous: Over half of U.S. broadband households use a health app on a monthly basis

Comments
Be the first to leave a comment.
Post a Comment