2.5 Million U.S. and Canadian Households ready to buy an Internet-connected TV
Personalized and Web-based content driving consumer demand --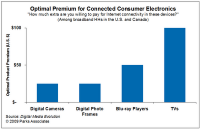 Parks Associates reports that approximately 2.5 million broadband households in the U.S. and Canada are ready to purchase an Internet-connected TV if priced at a $100 premium over regular TVs. This figure translates into $250 million in additional revenues for the consumer electronics industry.
Parks Associates' latest consumer study, Digital Media Evolution, gauges market demand for Internet-connected devices and the applications consumers want to use in conjunction with this new capability. The study covers digital cameras, TVs, digital photo frames, and Blu-ray players and finds TVs have the strongest market potential.
The top application consumers want through a connected TV is access to video-on-demand content. At the same time, roughly one-third of broadband households in the U.S. and Canada want on-screen widgets, and 27% want to access content stored on their home computers.
Access to additional content is the key demand driver. Most people can get popular video titles through their pay-TV providers, but if they want to watch niche or personal content on their TV, they have to burn or buy DVDs. With a connected TV, they suddenly have lots more options.
Next: BBC to Parliament - Get the iPlayer freeloaders!
Previous: Netflix with a Facebook application

Comments
Be the first to leave a comment.
Post a Comment