12M US households have cut the cord and 15M have mobile broadband only
Parks Associates estimates that across the US, 15 million households are currently mobile-only – which means that household members have mobile data plans but do not have a home internet subscription. Of this 15 million, 12 million were at one point fixed broadband subscribers. That is, for one reason or another, they cancelled their home broadband service. Some of the most common reasons are included in the chart below: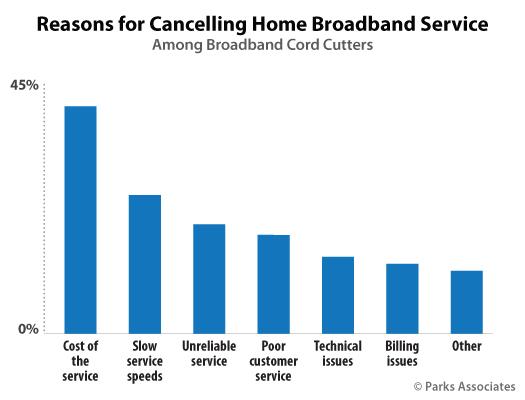 2020 and its assorted pressures – the shelter in place early in the year, social distancing measures, remote work and schooling – increased consumers' reliance on the internet, and served to slow down growth in mobile-only households and actually encourage many consumers to re-subscribe to home internet. For example, although an estimated 4 million mobile-only households were new to the category as of September, the mobile-only category as a whole grew by just 600,000 – indicating considerable turnover in this segment in the past year.
Adoption and Perception of Broadband finds that smart Wi-Fi or mesh networking products that would improve Wi-Fi coverage are powerful incentives to staunch churn, as 75% of households likely to switch would stay with their current provider if offered these solutions. Currently 94% of all US broadband households use Wi-Fi networking at home, and more than half report problems with their internet experience.
With 5G deployment and adoption accelerating, as well as COVID-19 vaccines rolling out, it remains to be seen if growth in mobile-only will resume to its pre-2020 levels, or if the COVID-19 tailwinds have helped to permanently stem broadband cord-cutting.
For more information please visit www.parksassociates.com.
Next: Smart Product Strategies in Europe: Choosing Communication Protocols
Previous: Parks Associates Announces Ossiaco as a Sponsor for Smart Energy Summit

Comments
Be the first to leave a comment.
Post a Comment