Navigating a New World: COVID-19 Impact on Video Viewing
The COVID-19 crisis continues to have a significant impact on how consumers live and how companies, including OTT players, operate their businesses. While sporting events and other live events are starting or planning to come back, the impact from the dearth of live content will reverberate for months to come.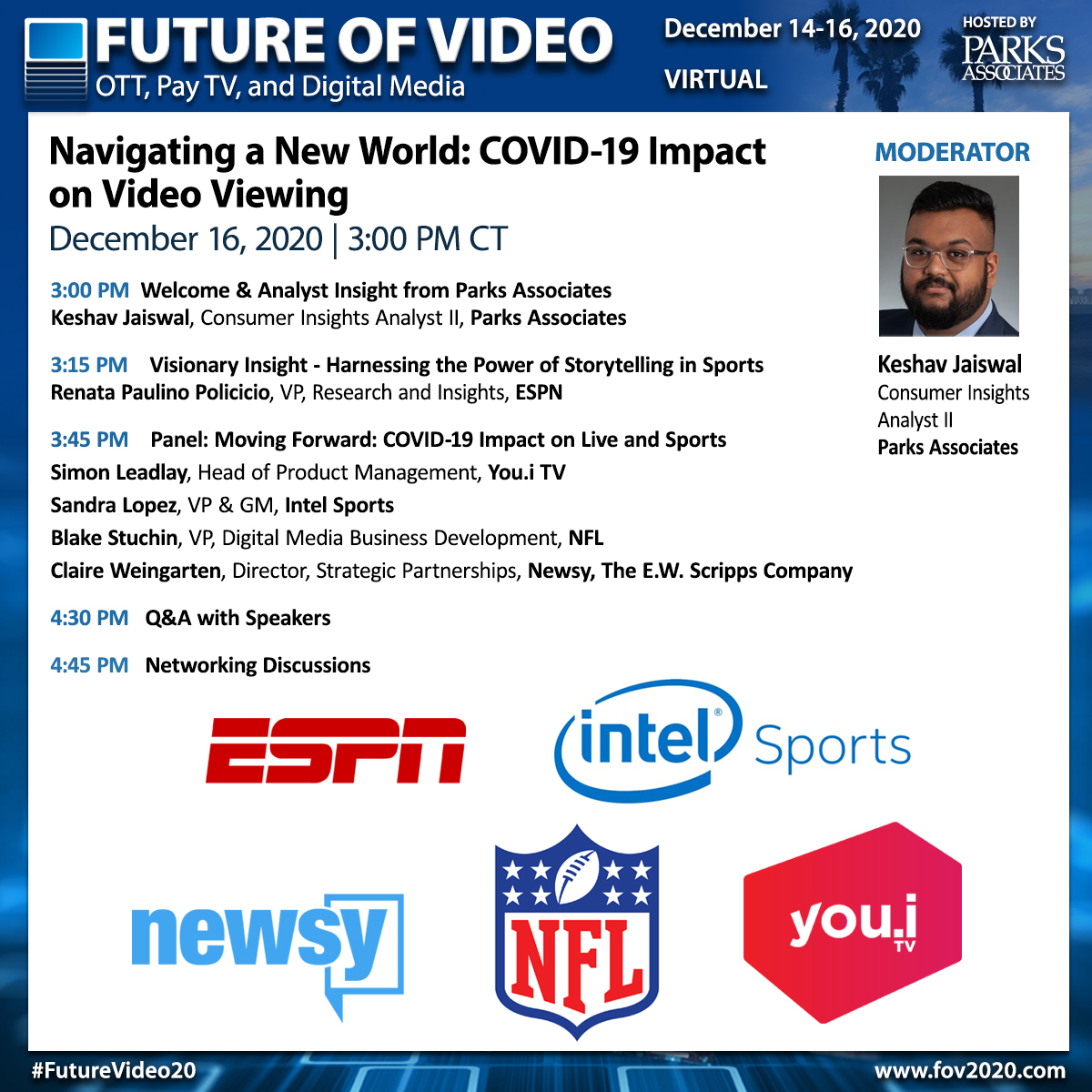 Losses in programming, advertising, and sponsorship are clear challenges for providers, while some sports-specific OTT services are struggling around rights, fee payments, and costs to carry out live events as a result of the pandemic.
Gain insights from Renata Paulino Policicio, VP, Research and Insights, ESPN at the Future of Video conference session, Navigating a New World: COVID-19 Impact on Video Viewing on December 16, 2020 at 3:00 p.m. CT.
This session looks at the way forward in delivering live content and how services are adapting to current challenges and building stronger offerings for the future. The final day of the conference will end with the "Moving Forward: COVID-19 Impact on Live and Sports" panel with industry experts Simon Leadlay, Head of Product Management, You.i TV, Sandra Lopez, VP & GM, Intel Sports, Blake Stuchin, VP, Digital Media Business Development, NFL, and Claire Weingarten, Director, Strategic Partnerships, Newsy, The E.W. Scripps Company,
Thank you Salesforce, Comcast Technology Solutions, ContentWise, Verizon Media, You.i TV, Amdocs Media, Penthera, and Verimatrix for sponsoring this event.
For more information please visit www.fov2020.com.
Next: Pluto TV launches Free, Ad-Supported Channel
Previous: OTT Partnerships: Key to Success

Comments
Be the first to leave a comment.
Post a Comment