Investing in the Future: 2025 Outlook
Overall adoption of connected home products is increasing each year, but the next five years will see much broader adoption of groundbreaking technologies, such as AI, machine learning, voice control, video analytics, sound recognition, and robotics, that will alter form factors.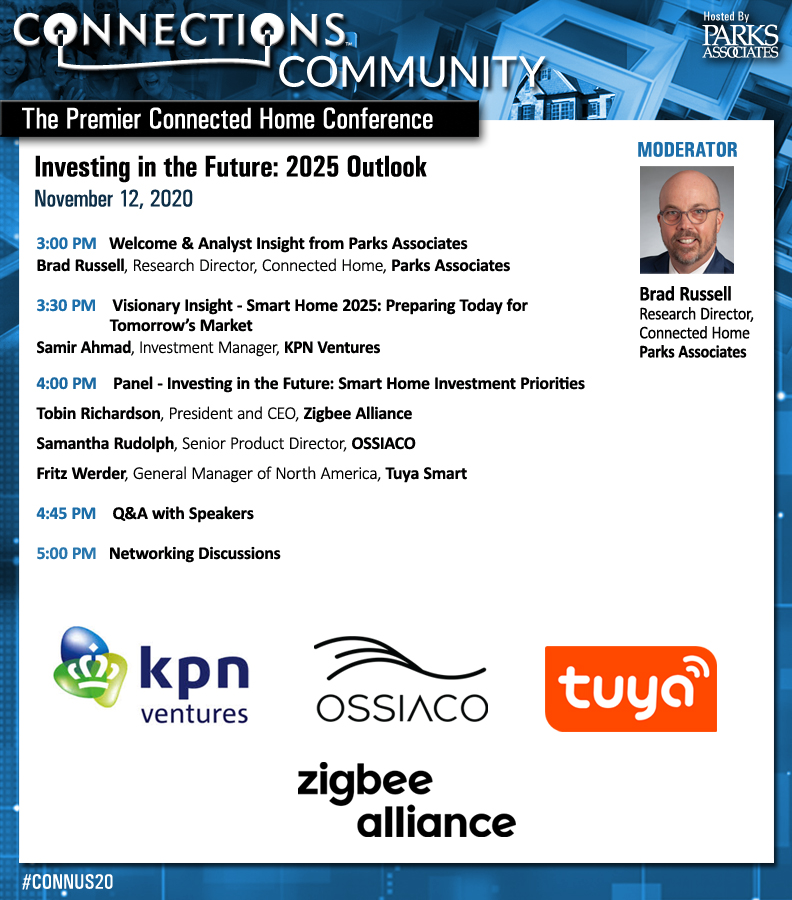 As part of the CONNECTIONS Community, Parks Associates analysts will share key forecasts and leads a discussion on factors fueling growth and key investments of connected products and services in the home on the last conference session
Investing in the Future: 2025 Outlook
on November 12 at 3:00 p.m. CT.
In this session, Parks Associates analysts highlight companies bringing innovative products and services to the connected home landscape. A visionary presentation explores the company's vision of the connected home landscape in 2025, and how product and service development today prepares it for delivering the solutions of tomorrow. A panel of industry experts concludes the three-day conference with a forward-looking discussion of the investment landscape in the connected home markets and what the investment community sees as the future of the smart home.
Next: Investing in the Future and the Long-Term Impact of COVID-19 - Ezlo Innovation
Previous: Living Securely at Home - SimpliSafe

Comments
Be the first to leave a comment.
Post a Comment