Wearables: Hearing Aids and Sleep Tracking
by Harry Wang | Jul. 6, 2016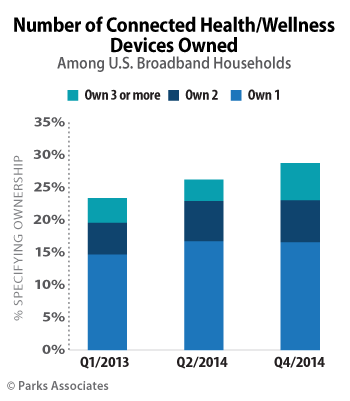 Connected wearables are flourishing in almost every health and wellness category. According to Parks Associates, 33% of U.S. broadband households now own at least one connected health device—such as a digital fitness tracker, networked weight scale, connected treadmill, or blood pressure meter—an increase from just under 25% in 2014.
With rising consumer interest and hot venture money, the wearables market for health and wellness has taken a significant stride forward. Outside of the fitness tracker category, the wearables market for wellness tracking and management is a "Wild Wild West." Startups have emerged with innovative gadgets serving a wide range of wellness needs. Adoption is low in general (<1%) and each category may have only one or two brands or products—for now.
Digital Hearing Aids Challenging Incumbents
Hearing aids and sleep tracking are two wellness markets with relatively high adoption rates and therefore stand out. Like many other health device categories, the traditional hearing aid market is undergoing a digital transition. New products feature more fashionable designs, improved wearing comfort, more intelligent hearing volume adjustment mechanisms, and improved noise cancelling effects. Today, half a dozen startups, including Audicus, Opternative, and Clear Ear, have emerged, challenging incumbents who are responding with their own digital products to address consumer needs.
The hearing aid market currently sells about 2.5 million units a year, according to estimates based on publicly available financial data. Low-end products, priced under $100, account for about 75% of volume, whereas high-end models—costing thousands of dollars and requiring a custom fitting service from an audiologist—account for 25% of volume but 95% of revenues. New, digitally enhanced hearing aid products are concentrated in the high-end market, where demand is far less price-sensitive than in the low-end market.
Sleep Tracking: Opportunities Abound
According to Parks Associates research, about 7.5 million U.S. consumers own and use a device that either has embedded sleep tracking functions or is designed mainly for sleep tracking. Many fitness tracking and smart watch devices can provide a rudimentary overview of users' sleep patterns. Advanced sleep trackers use more accurate sensors to detect detailed sleep stages by calibrating data from sensors that measure heart rates and breathing patterns. With such knowledge, apps that usually come with a sleep tracker can offer personalized sleep advice, wake up wearers based on their unique sleep cycle, and program soothing music and/or adjust ambient lighting to aid sleep.
Other dedicated sleep trackers may not yet be in a wearable form factor. Beddit and Withings' Aura are sensors built into a pad that lies underneath the mattress. ResMed and startup Hello offer sleep trackers designed as a gadget that stands on a nightstand.
The New Digital Health Era
Wearable devices and their apps represent a new digital data and service platform through which healthcare industry players can influence end users' health and wellness behaviors. For this reason, health systems, insurers, population health management service providers, and their technology partners have been watching wearables innovations with great interest. Employers, which compose the largest buyer group of health insurance on behalf of their employees, will also be particularly interested in wearables for health and wellness management.
Though fitness trackers remain the bulk of connected health devices U.S. consumers own and use, these devices will begin to face stiffer competition from new wearables categories that are more anonymous, personal, or multifunctional. Consumers are likely to spread their investment in wearables by focusing on areas critical to their health and wellness needs and on product designs that best match their lifestyle, habits, and fashion tastes.
Emerging digital health devices and wearables will be a key focus at the 2016 Connected Health Summit in San Diego. If you are an industry stakeholder or would like to learn more about trends and disruptions in this space, I encourage you to attend.
Further Reading:
Next: Industry Webcast: Technology Innovation & Disruption in Digital Health
Previous: Connected Health Device Adoption on the Rise in U.S.

Comments
Be the first to leave a comment.
Post a Comment