ViewSonic Adds 3D Camcorder, Frame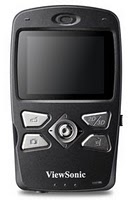 ViewSonic this week entry into the digital camcorder market by unveiling one of the industry's first pock-sized models capable of capturing images in 3D.
The ViewSonic 3DV5 will produce 720p HD video images in both 2D and 3D, and will capture JPEG still images. It also includes built-in software to make it easy to upload clips to YouTube and Facebook.
ViewSonic, which already offers 3D-capable video projectors and monitors compatible with the 3D recordings from the 3DV5, will use the new video capture device to help address the relative dearth of available 3D content, by giving consumers the chance to make their own.
The 3DV5 Pocket 3D HD Camcorder essentially encapsulates two fixed-focus 5-megapixel video cameras with dual (left, right) lenses to capture stereoscopic 3D content at 720p resolution. The camera saves video in MP4 format, has a 4x digital zoom and a built-in stereo microphone. Users can also switch to recording 2D HD video with the push of a button.
For the complete article, please click here.
Next: Digital Video Player News: Western Digital
Previous: Toshiba's Android tablet sales stop in UK after major flaws

Comments
Be the first to leave a comment.
Post a Comment