Value-Added Services, Privacy Innovations Will Help IoT Become Future-Proof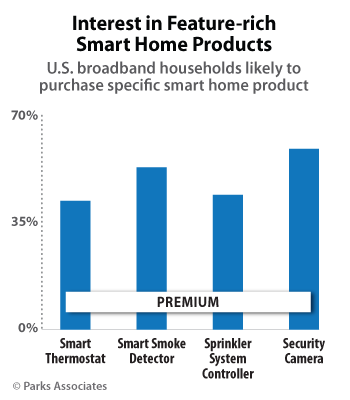 As the IoT market comes to fruition, companies are creating future-proof strategies to secure the health of the market. As consumers learn the basics of the platform, they will want the next thing, the next innovation. New value-added services and privacy innovations can help the IoT market become a durable, future-proof industry.
Parks Associates and Ayla Networks recently aired a complimentary industry webcast to outline how companies can develop future-proof IoT market strategies.
Research topics included:
Impact of connectivity on markets
Value-added services and product differentiation
Partnerships and new business models
Privacy and security
Future-proofing communications and cloud infrastructure

Speakers on the webcast included Wendy Toth, Vice President of Marketing at Ayla Networks; Nolan Mondrow, CEO and Founder of Lockstate; and Ron Bartos, Director of Global Electronics and Sensors of A.O. Smith. Discussion was led by Parks Associates Director of Research Tom Kerber.
To download the slide deck and webcast recording, click here.
Further Reading:
Next: IoT Connectivity is Increasing Consumer Privacy & Security Concerns
Previous: 5% of Canadian broadband households have a smart home device of some kind

Comments
Be the first to leave a comment.
Post a Comment