Uncovering the Healthcare Needs of U.S. Consumers
by Kaitlin Hawkins | Apr. 23, 2014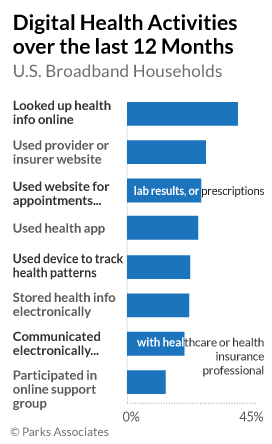 Parks Associates recently released new consumer data examining the impact of technology on the healthcare needs of U.S. consumers. The report, which includes 2,500 consumers in U.S. broadband households, finds that the top three digital health activities over the past year include looking up health information online, using a provider or insurer's website, and using websites for appointments, lab results, or prescriptions.
Healthcare providers and insurers, drug companies, medical device OEMs, and other healthcare professionals can use this report to better understand engagement digital health services, connected devices, and wellness programs, as well as the market potential for connected health services, devices, and apps in the future.
Key topics in this report include:
Current health services, insurance, and relationship with physician
Consumer attitudes and motivational factors
Digital technology adoption, ownership, and use of tracking tools and apps
Ownership of home health devices, including self-monitoring devices
Use of fitness tracking devices, apps, and web portals for exercise and fitness

For more information on 360 View: Health Devices and Services for Connected Consumers 2014 report, please request more information.
Next: Free Webcast to Address Strategies for Engaging Consumers in Digital Health
Previous: Parks Associates Announces Connected Health Summit

Comments
Be the first to leave a comment.
Post a Comment